Clinton talks of faith to black audience
'A PRAYING PERSON': Clinton spoke of her social justice background, often fusing policy and anecdotes about how her Methodist faith steered her toward public policy
Democratic US presidential candidate Hillary Rodham Clinton quoted biblical scripture. She talked about her youth minister who took her from the safe harbor of suburbia to the inner city of Chicago, and she shared the memory of seeing her gruff father bent on his knees in prayer each night.
Also, without ever mentioning Republican US presidential candidate Donald Trump by name, Clinton portrayed her rival as a nihilist who does not understand African-Americans or their faith.
The next president, she told the audience at the National Baptist Convention on Thursday night, should be "a praying person."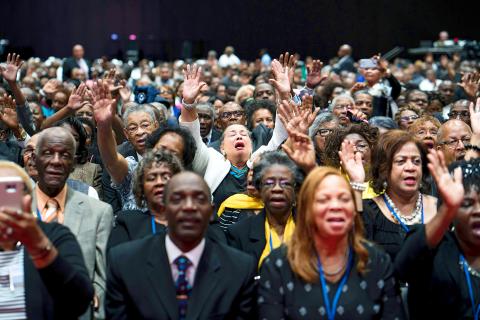 People sing on Thursday before an appearance by Democratic US presidential nominee Hillary Rodham Clinton at a National Baptist Convention in Kansas City, Missouri.
Photo: AFP
"Our greatest leaders are often the most humble because they recognize both the awesome responsibilities of power and the frailty of human action," Clinton told an audience that was almost entirely black, adding that the US needed "a president who will pray with you and for you."
In an address that seemed something of an exhale in a week in which Clinton has spent much of her time eviscerating her opponent as unqualified to handle national security, the Democratic nominee spoke instead of her activist, social justice background, often fusing policy and personal anecdotes about how her Methodist faith had steered her toward public policy.
Often criticized for her lack of self-reflection, Clinton said she was "grateful for the great gift of personal salvation and for the great obligation of the social gospel."
As she faces continued criticism over her handling of e-mails at the US Department of State, Clinton conceded she had "plenty" of faults and had made mistakes.
"I don't know anyone who hasn't," she said.
"Everyone here today has stumbled on their own stony roads," she said. "It's grace that lifts us up, grace that leads us home."
Despite the central role Clinton's Methodism plays in her life, she seldom talks about it on the campaign trail.
Such public displays of faith do not come naturally "to a Midwestern Methodist," she said.
More than four in 10 US voters — regardless of party affiliation — said they believed Clinton was not very religious, according to a Pew Research Center study on "Faith and the 2016 Campaign" released in January.
Among Democrats and voters who lean toward the Democratic Party, about two-thirds said Clinton was at least "somewhat" religious; 27 percent said she was not.
However, amid the political mudslinging with Trump — and a stubbornly high number of voters who dislike and distrust her — Clinton must show voters more of herself and explain her own motivations, aides said.
"We believe we have to work extra hard to make sure the positive notion she wants to do breaks through given the amount of interest there is in what he says," Clinton campaign spokeswoman Jennifer Palmieri said.
The speech was the first of several in which Clinton will try to connect her personal motivations with policies. In the coming weeks, she will give at least three addresses, about the economy, proposals to help children and families and a call to national service.
She sought to reinforce her deep roots in African-American churches on Thursday, paying tribute to several of the Baptist congregations she had visited during the campaign, and presenting herself as the antithesis of Trump, who drew criticism last week after revelations that his campaign had pre-written questions and responses when he spoke at a black church.
"I'm sure you're sick and tired of politicians who think they can just show up at election time, say a few nice words and earn your support," said Clinton, whose relationship with the group stretches back decades.
Trump has accused Clinton of "bigotry" toward African-Americans and said she and other Democrats had pandered to black voters without helping them find jobs or reduce crime.
"What do you have to lose," by voting for him, Trump has asked African-Americans, after painting an image of poverty and crime sweeping their communities.
Clinton responded: "You also know better than anyone that people who look at the African-American community and see only poverty, crime and despair are missing so much."
Comments will be moderated. Keep comments relevant to the article. Remarks containing abusive and obscene language, personal attacks of any kind or promotion will be removed and the user banned. Final decision will be at the discretion of the Taipei Times.