French Muslims attend Sunday Masses
SHOW OF SOLIDARITY: A French Muslim council urged co-religionists to demonstrate 'solidarity and compassion' over the slaying of a French priest on Tuesday last week
Muslims on Sunday attended Catholic mass in churches around France in solidarity and sorrow following the brutal militant murder of a priest, the latest in a string of attacks.
More than 100 Muslims were among the 2,000 faithful who packed the 11th-century Gothic cathedral of Rouen, near the Normandy town where two militant teenagers slit the throat of 85-year-old Father Jacques Hamel.
"I thank you in the name of all Christians," Rouen Archbishop Dominique Lebrun told them. "In this way you are affirming that you reject death and violence in the name of God."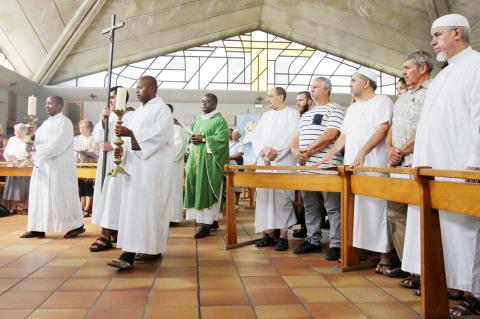 Muslim worshipers stand up as Roman Catholic clerics arrive in the Saint-Pierre-de-l'Ariane church before the start of a Mass on Sunday in Nice, France.
Photo: AFP
A few policemen and soldiers stood guard outside, but did not conduct searches, seeking to reassure a jittery population after the second militant attack in less than two weeks.
In Nice, where 84 people were killed in a truck rampage on July 14, local Imam Otaman Aissaoui led a delegation of Muslims to a Catholic Mass.
"Being united is a response to the act of horror and barbarism," Aissaoui said.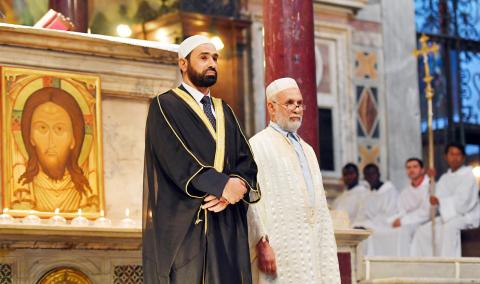 From left, Iman Sami Salem and Imam Mohammed ben Mohammed stand during a Mass in the church Santa Maria in the Trastevere district of Rome, Italy, on Sunday.
Photo: AFP
Notre Dame church in southwestern Bordeaux also welcomed a Muslim delegation, led by the city's top imam, Tareq Oubrou.
"It's an occasion to show [Muslims] that we do not confuse Islam with Islamism, Muslim with jihadist," Reverend Jean Rouet said.
Pope Francis, on his plane back to Rome after a trip to Poland, said Islam could not be equated with terrorism.
"It's not true and it's not correct [to say] Islam is terrorism," he said, defending his decision not to name Islam when condemning the murder. "If I have to talk about Islamic violence I have to talk about Christian violence. Every day in the newspapers I see violence in Italy, someone kills his girlfriend, another kills his mother-in-law, and these are baptized Catholics."
Muslims were responding to a call by the Conseil francais du culte musulman to show "solidarity and compassion" over the priest's murder on Tuesday.
Said a woman wearing a beige headscarf who sat in a back pew at a church in central Paris: "I'm a practicing Muslim and I came to share my sorrow and tell you that we are brothers and sisters."
Giving her name only as Sadia, she added softly: "What happened is beyond comprehension."
At the Saint Leger church in the city of Lens, about 30 Muslims attended Mass wearing T-shirts emblazoned with messages such as: "Terrorism has no religion or identity."
Father Hubert Renard told the congregation: "We are not alone; our Muslim brothers are here too."
Many were moved to tears during the sign of peace, a regular part of the liturgy when the faithful turn to greet each other in the pews, either shaking hands or kissing.
Muslims also attended Catholic Masses in Italy, notably at Rome's Santa Maria di Trastevere church, in response to a call by the Sant'Egidio community known for its international mediation efforts. Other joint services were held in Milan, Naples and Palermo, Sicily.
The killing of Father Hamel fanned fears of religious tensions in France and renewed recriminations over perceived security lapses.
Both of the 19-year-old attackers — Adel Kermiche and Abdel Malik Petitjean — had been on the intelligence services' radar and had tried to go to Syria.
French Prime Minister Manuel Valls on Sunday called for a new "pact" with the Muslim community in France, Europe's largest with about 5 million members.
Dozens of prominent Muslims also published a joint letter pledging: "We, French and Muslim, are ready to assume our responsibilities."
Petitjean's 30-year-old cousin was charged with "criminal association in connection with terrorism," the Paris public prosecutor said, adding that the suspect, Farid K, "was fully aware of his cousin's imminent violent action, even if he did not know the precise place or day."
Comments will be moderated. Keep comments relevant to the article. Remarks containing abusive and obscene language, personal attacks of any kind or promotion will be removed and the user banned. Final decision will be at the discretion of the Taipei Times.