Bangladeshi police raid kills 'terror attack plotters'
'MAJOR ATTACK': Police killed nine militants they said were members of the group that killed 22 in a Dhaka cafe, who they say planned a similar attack
Bangladeshi police yesterday killed nine militants who were believed to have been plotting an attack similar to the one on a cafe on July 1 in which 22 people were killed, the national police chief said.
Police said the militants were holed up in a building in Kalyanpur on the outskirts of the capital, Dhaka, and they opened fire on officers as they tried to enter.
The militants, who shouted "Allahu Akbar," or "God is great," as they battled police, were believed to be members of the Jamaat-ul-Mujahideen Bangladesh (JMB), a banned group that has pledged allegiance to the Islamic State group.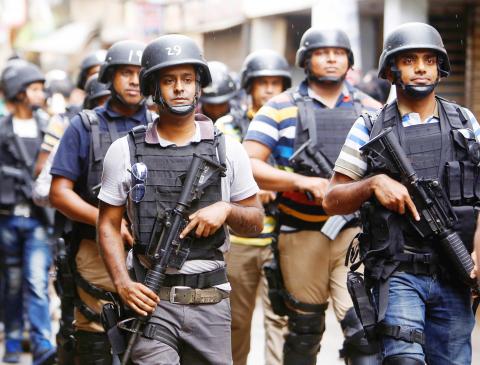 Security personnel leave the site after a police operation against militants on the outskirts of Dhaka, Bangladesh, yesterday.
Photo: Reuters
"They were wearing black outfits, turbans and had backpacks ... similar to the outfits the attackers in the cafe had," police chief Shahidul Hoque told reporters at the scene after the militants were killed.
One wounded militant was captured, he said.
"They were plotting a major attack in the capital like that in the restaurant," he said.
The Islamic State claimed responsibility for the cafe attack, but the government has dismissed suggestions that it has a presence in Bangladesh.
Police said the JMB was behind the attack by five young Bangladeshis on the upmarket cafe. Most of the 22 people killed there were foreigners.
The five attackers were also killed.
Hoque said the militants killed yesterday were believed to have been a JMB cell.
"The militant who was detained claimed they were Islamic State members, but we think they're JMB," he said.
Mostly Muslim Bangladesh has faced a series of attacks on liberal bloggers, academics and members of religious minorities over the past year.
While authorities have blamed the violence on domestic militants, security experts say the scale and sophistication of the assault on the cafe suggested links to a trans-national network.
The Islamic State has warned that violence would continue until Islamic law was established worldwide, saying in a video that the Dhaka cafe attack was just a glimpse of what was to come.
Comments will be moderated. Keep comments relevant to the article. Remarks containing abusive and obscene language, personal attacks of any kind or promotion will be removed and the user banned. Final decision will be at the discretion of the Taipei Times.