Myanmar police charge workers over protest 'riot'
About 50 Burmese factory workers and activists involved in a protest march that ended in scuffles with security forces this week have been charged with rioting, police said yesterday.
The latest move by authorities to punish demonstrators from recent rallies comes despite efforts by Aung San Suu Kyi's new civilian-led government to amend draconian protest laws as the country tries to shake off the repressive legacy of the former junta.
The labor protesters were on Wednesday blocked by a wall of police as they tried to complete an unauthorized march into the capital, Naypyidaw. They had walked for three weeks in searing temperatures from the northern Sagaing Region, where about 100 workers have recently been fired from a timber factory.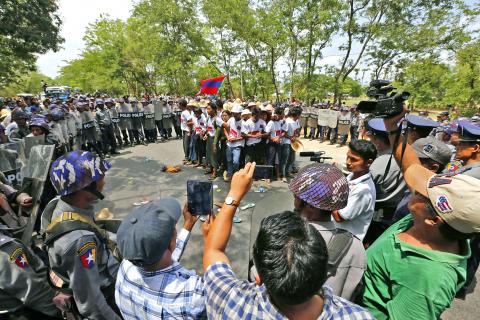 Burmese police surround a group of demonstrators who were marching to protest over labor rights in Tet Kone, near Naypyidaw, on Wednesday.
Photo: EPA
Scuffles broke out as they were detained.
Authorities said they had initially planned to charge just the rally leaders, but the remaining demonstrators had insisted on all being prosecuted together.
"Now around 50 of them have been charged with ... joining in or continuing an unlawful assembly and rioting," Naypyidaw region police head Ko Ko Aung said.
He told reporters that authorities had banned the march into the capital on the grounds of national security.
About 20 other protesters were sent home soon after the police clampdown.
Naypyidaw was built 10 years ago in remote tropical scrubland by Myanmar's former military rulers.
It is still considered a stronghold of the army, despite playing host to the country's parliament and its first elected civilian government in half a century.
Aung San Suu Kyi's party is stacked with former dissidents who served prison time for their opposition to Myanmar's military governments.
Since taking the helm following a landslide election victory in November last year, the administration has freed scores of activists and political prisoners and signaled its determination to repeal oppressive laws.
However, rights groups have expressed concern over efforts to amend the Peaceful Assembly Act, fearing it could continue to penalize non-violent demonstrations, albeit with shorter jail terms.
Lawmakers debated the amendment in parliament on Thursday calling for further changes, but have not yet voted on the issue.
Earlier this week police officials announced plans to take action against five leaders of an interfaith rally in Yangon, because the campaigners had deviated from the agreed protest route.
Yangon police have also begun legal action against seven leaders of an unauthorized protest by Buddhist nationalists outside the US embassy last month.
Comments will be moderated. Keep comments relevant to the article. Remarks containing abusive and obscene language, personal attacks of any kind or promotion will be removed and the user banned. Final decision will be at the discretion of the Taipei Times.