Polls open in Iran parliamentary elections
INVOLVEMENT URGED: Voting began yesterday morning and was to end the same day as legislators seek four-year terms, with results expected to be announced today
Iran's parliamentary runoff elections got under way yesterday, a key vote to decide whether forces backing Iranian President Hassan Rouhani or others will control the legislature, state media reported.
The balloting is for the remaining 68 positions in the 290-seat chamber, which will set the legislative course for the Islamic Republic following a nuclear deal last year with world powers.
In February, a bloc of reformists and allies of Rouhani won a majority in a vote that saw a 62 percent turnout. The bloc needs to win 40 seats to control the parliament, which is to begin work late next month. Others are also hoping to boost their presence in the next parliament.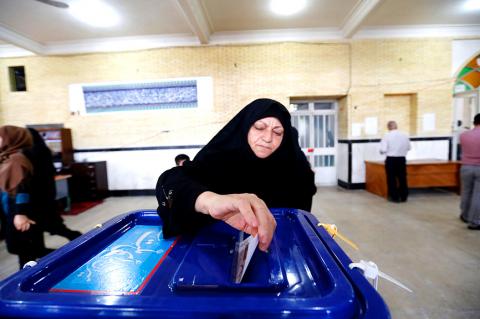 A woman casts her ballot at a polling station in Robat Karim, Iran, yesterday.
Photo: AFP
Polls opened at 8am and nearly 17 million Iranians were eligible to vote in 55 constituencies, including cities and towns across the nation. In Tehran, moderates won all 30 seats there outright in the first round of voting.
The moderate-reformist bloc is fielding 58 candidates in the runoff. The remainder of the candidates include several independents. Lawmakers serve four-year terms.
Polls were to be open until at least 6pm, though election hours often get extended.
Iranian Minister of the Interior Abdolreza Rahmani Fazli told reporters that election results are expected today.
Over the past days, Iranian leaders have urged people to vote.
"The importance of the runoff elections is not less than the first round; there is a need for all to participate. Participation in the elections is decisive," Supreme Leader Ayatollah Ali Khamenei, who has final say on all state matters, said on Wednesday.
The election is viewed by many as a referendum on the leadership of Rouhani, whose administration negotiated the deal with world powers — including the US — to limit Iran's nuclear program in exchange for the lifting of international sanctions.
While the deal has taken effect, many feel they have not seen its benefits as Iran's economy remains anemic.
In February, voters also picked members for an 88-seat body of clerics charged with selecting the replacement for the supreme leader from high-ranking clerics, including its members.
The Assembly of Experts is elected every eight years and there is a chance its members might need to find a successor for the ayatollah, who is 76 years old and underwent prostate surgery in 2014, renewing speculation about his health.
In the time since, Khamenei has appeared in good health in weekly meetings and reportedly was seen hiking near the capital.
Comments will be moderated. Keep comments relevant to the article. Remarks containing abusive and obscene language, personal attacks of any kind or promotion will be removed and the user banned. Final decision will be at the discretion of the Taipei Times.