Court rejects Rousseff move to halt impeachment
EMERGENCY SESSION: The Supreme Court ruling paved the way for a vote in the lower house of Congress on whether to send the president to an impeachment trial
Brazil's Supreme Court yesterday rejected a last-ditch attempt by Brazilian President Dilma Rousseff to halt the impeachment process against her, clearing the way for a key vote in Congress.
Justices refused a request for an injunction against proceedings that a government lawyer called "Kafkaesque" and said amounted to denying Rousseff the opportunity to defend herself against allegations of illegally fudging government budget numbers to boost her re-election chances in 2014.
The 7-3 ruling in an emergency Supreme Court session that began late on Thursday and went well past midnight in Brasilia paved the way for tomorrow's vote by the lower house of Congress, which is due to decide whether to send Rousseff to an impeachment trial.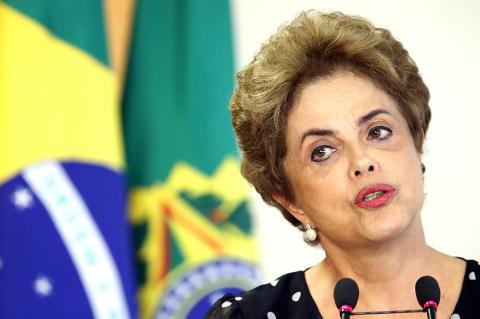 Brazilian President Dilma Rousseff speaks during a meeting at the Planalto Presidential Palace in Brasilia on Wednesday.
Photo: AP
In an atmosphere of maximum drama and tension in Latin America's largest country and economy, debate in the lower house was set to begin late yesterday leading up to tomorrow's vote.
Latest counts of voting intentions in the lower house by major Brazilian newspapers show the pro-impeachment camp either at, or on the verge of, the necessary two-thirds majority.
If the vote passes, the Senate will have authority to open a trial against Rousseff. If the Senate finds her guilty with another two-thirds vote, she would be forced from office.
The 68-year-old leftist leader's grip on power is fast slipping, leaving Brazil in crisis at a time of major recession and less than four months before Rio de Janeiro hosts the Olympic Games.
Rousseff has been desperately trying to assemble enough support in the lower house to prevent the opposition amassing the 342 out of a total 513 votes they need to move the impeachment forward.
On Thursday, she launched a new line of defense, sending her government's top lawyer, Jose Eduardo Cardozo, to file for the injunction. The government alleged procedural failings in the impeachment case, saying it had violated her right to a defense.
"Evidence unrelated to the case has been included in the process, such as matters related to President Dilma [Rousseff]'s previous term," Cardozo said in the filing.
He called the impeachment drive "a truly Kafkaesque process in which the accused is unable to know precisely what she is accused of or why."
Rousseff, who has vowed to go down fighting, also tried another tack by repeating an offer to forge a political compromise with opponents.
"The government will fight until the last minute of the second half... to foil this coup attempt," she said in an interview published by various media outlets on Thursday.
Rousseff on Thursday held a meeting with ministers and some of the lawmakers still loyal to her, a presidential source said, shortly before Cardozo announced his appeal.
Several of the parties in Rousseff's coalition have jumped ship, starting with the PMDB of her vice president, Michel Temer. Scores of lawmakers have since turned against Rousseff, saying they will vote for impeachment.
Comments will be moderated. Keep comments relevant to the article. Remarks containing abusive and obscene language, personal attacks of any kind or promotion will be removed and the user banned. Final decision will be at the discretion of the Taipei Times.