Former DR Congo leader guilty of war crimes: ICC
Former Democratic Republic of the Congo (DR Congo) vice president Jean-Pierre Bemba was on Monday found guilty of a ruthless campaign of widespread rapes and killings by his private army in the Central African Republic (CAR), in a landmark war crimes verdict.
It is the first case at the International Criminal Court (ICC) to highlight both sexual violence as a weapon of war and a military commander's overall responsibility for the actions of his troops, and was swiftly welcomed by rights groups.
The judges found Bemba guilty on all five charges of war crimes and crimes against humanity, saying he had retained "effective command and control" more than 1,500 men he sent in to the CAR to quell an attempted coup against then-CAR president Ange-Felix Patasse.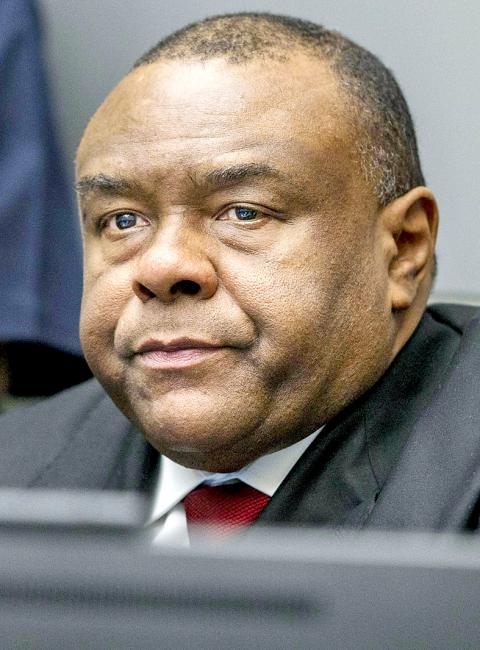 Former DR Congo vice president Jean-Pierre Bemba sits in a courtroom of the International Criminal Court in The Hague, the Netherlands, on Monday.
Photo: EPA
Bemba, dressed in a dark suit and red tie, listened tensely through headphones as presiding judge Sylvia Steiner read out the verdict in English.
Chief prosecutor Fatou Bensouda hailed the verdict as "historic" saying at the end of a marathon trial that the victims had been waiting a "long time" for justice.
Hollywood star and activist Angelina Jolie said in a statement it was "shocking" that the "landmark conviction" is a first at the ICC.
"I can only imagine the reaction of victims who in their hearts probably never thought that this day would come," said Jolie, co-founder of the Preventing Sexual Violence Initiative.
However, Bemba's defense lawyer, Peter Haynes, said his client was "disappointed" by the judgement.
The 53-year-old Bemba, who has been behind bars since he was captured in 2008, is expected to appeal.
The judges dismissed Bemba's defense that his Congolese Liberation Movement (MLC) had come under the control of the CAR's hierarchy when they crossed into the neighboring country in late October 2002.
Speaking slowly, Steiner read out a chilling list of rapes and atrocities, detailing how MLC forces had deliberately targeted civilians as part of a modus operandi as they sought to halt the coup bid against Patasse.
Men, women and children were all raped — in one case three generations of the same family were gang-raped by MLC soldiers who held them at gun point and forced relatives to watch.
Bemba was in constant communication with his forces, issued "direct operational orders" and "had knowledge" of what was happening on the ground, Steiner said, but he had not stopped the violence.
Once a feared rebel leader in the north of the Democratic Republic of Congo, Bemba "retained primary ... authority over the MLC troops" in the CAR, she said.
Bemba will be sentenced at a later date and could face up to 30 years in jail — or even a life sentence, if the court considers that it is "justified by the extreme gravity of the crime."
"The paramount importance of this verdict cannot be overstated. It is a landmark along the road to justice for victims of crimes of sexual violence," Central African League for Human Rights president Andre Olivier Manguereka said.
Amnesty International said the guilty verdict "sends a clear message that impunity for sexual violence as a tool of war will not be tolerated."
Comments will be moderated. Keep comments relevant to the article. Remarks containing abusive and obscene language, personal attacks of any kind or promotion will be removed and the user banned. Final decision will be at the discretion of the Taipei Times.