Bomb explodes on government bus in Pakistan
'SKY FALLING': Kafayatullah Khan said he was on the bus with about 70 others when he was struck, while a bystander said he saw people flying from the vehicle
A bomb ripped through a bus carrying Pakistani government employees in the volatile northwestern city of Peshawar yesterday, killing 15 people, police said.
Though no one immediately claimed responsibility for the bombing, the attack underscored how despite Pakistan's sweeping military offensive, militants are still able to stage large-scale assaults.
Peshawar, the capital of Khyber Pakhtunkhwa province, is still reeling from a December 2014 massacre at an army public school in the city that killed 150, mostly children.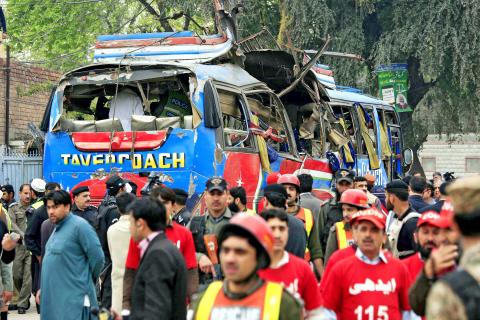 Rescue workers and security personnel inspect the scene of a bomb blast in Peshawar, Pakistan, yesterday.
Photo: EPA
Hours after the explosion, the head of the Pakistani army signed death sentences for 13 Taliban militants convicted of several attacks, including an assault on a mountain resort that killed 10 foreign tourists.
Yesterday's explosion took place in an area of Peshawar that houses military institutions and residences, police official Abbas Majeed Marwat said.
The bus was taking government employees from several nearby towns on their daily commute to work at the provincial secretariat in Peshawar, Marwat said.
At least 54 people, including women and children, were wounded in the blast, which was set off by an improvised explosive time device planted under a seat, he added.
Suspicion is likely to fall on the Pakistani Taliban and other allied militant groups who have been waging a war on the state for more than a decade, killing tens of thousands of people in a quest to overthrow the government and install their own.
Local TV footage showed the wreckage of the bus as police and rescue officials rushed wounded people to hospitals. Footage from a surveillance camera captured the moment of the explosion, showing the bus moving on a road and then blowing up into a cloud of thick smoke.
"I saw people flying out of the bus shortly after it exploded with a bang," bystander Amir Aalam, 35, told reporters.
From his hospital bed, 50-year-old Kafayatullah Khan, who suffered multiple wounds, said he was "struck by something hard."
"It was like the sky falling," said Khan, an auditor in the provincial government.
He was on the bus with about 70 other people, he said.
Rescuers had to cut through the bus to pull out several people, both dead and wounded, police official Mubarak Zeb said.
He said that about 8kg of explosives was used in the bomb.
The bus bombing was the deadliest this year in Peshawar, though there have been major attacks in recent weeks in towns and districts just outside it. One of those was the January assault by Taliban gunmen on a university in the nearby town of Charsadda, when 21 students and teachers were killed.
Peshawar sits on the edge of Pakistan's tribal region that is home to the Taliban and al-Qaeda-linked groups. The Pakistani military in June 2004 launched a massive offensive in the region.
"We are facing these cowards," provincial spokesman Mushtaq Ghani told reporters at the scene of the explosion yesterday.
He said the militants who fled the military offensive in the countryside have found refuge in urban areas, where they now stage attacks seeking to strike at soft targets.
Since the 2014 Peshawar school attack, Pakistan has resorted to strict measures to battle insurgents, including setting up military courts and lifting a moratorium on the death sentence.
Pakistani Army General Raheel Sharif yesterday confirmed death sentences for 13 Taliban militants, an army statement said.
Those convicted were tried in the closed-door military courts for several attacks, including a 2013 attack at a base camp of a Pakistani northern peak called Nanga Parbat, popular with mountain climbers, where the Taliban killed 10 foreign tourists and a Pakistani.
Comments will be moderated. Keep comments relevant to the article. Remarks containing abusive and obscene language, personal attacks of any kind or promotion will be removed and the user banned. Final decision will be at the discretion of the Taipei Times.