Covert network issuing air-raid alerts in Syria
WATCHING AIR BASES: Monitors watch for Russian planes taking off and listen to radio chatter to predict what area is to be bombed, giving people time to move
In Syria's Latakia Province, Abu Mohammad sends a warning from his mobile phone to a secret network of colleagues: "Caution: A Russian plane just took off in your direction."
Moments later, people in a rebel-held area in northwestern Syria sound warning sirens that prompt civilians to take cover before incoming air raids.
The message, sent via the mobile application WhatsApp, is part of an effort by a network of civilian and rebel coordinators across Syria who call themselves "the monitors."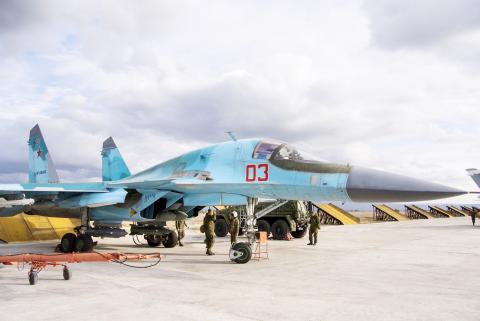 Russian Air Force personnel stand under a warplane at the Hemeimeem air base in Syria on Wednesday.
Photo: AP
From positions near Syrian government-held military airports, they use messaging services or walkie-talkies — depending on Internet coverage — to warn activists, medics and rebels about incoming aerial attacks.
They track flight paths and try to decipher communication codes to warn them that Syrian or Russian military aircraft could be headed their way.
Fearing retribution from forces loyal to Syrian President Bashar al-Assad, "the monitors" would not divulge their names or locations.
Abu Mohammad agreed to speak to reporters using a pseudonym.
He said he is based near a Syrian army position in the regime stronghold of Latakia and describes dodging artillery and Russian reconnaissance drones to keep an eye on outgoing warplanes.
His job has become even more complicated since Sept. 30 last year, when long-time regime ally Russia began an air campaign in support of the government.
Russia operates military aircraft from Latakia's seaside military airport of Hmeimim, where thousands of its troops are also based.
"I know when the plane takes off and as soon as it does, I tell people that a plane is coming towards them," he said. "As soon as the news reaches people, they either hide in their bomb shelters, or some people hide in underground tunnels."
Rights groups have regularly accused al-Assad's regime of indiscriminate aerial bombardment of rebel-held territory since the conflict began with anti-government protests in March 2011.
Russia has also been accused of causing civilian casualties in its strikes, though it denies the claims and says it is targeting the Islamic State group and other "terrorists."
Another monitor in Latakia, Abu Omro, said he and his colleagues are loosely organized into units and the network is not affiliated with a specific rebel group.
"The idea is to protect people and rebels from the planes and the shelling... These monitors are really necessary," he told reporters over WhatsApp, which is popular across the Middle East.
The monitors operate like a chain: When a Russian plane takes off from Hmeimim, the spotter warns counterparts in the provinces where the plane is heading, who in turn contact people there.
Activists who rely on the monitors say the warnings are essential.
In the central province of Homs, activist Hassaan Abu Nuh is on alert for messages about warplanes headed to his town of Talbisseh, which is regularly bombarded by Russian and Syrian government planes.
Even before the Russian campaign began, activists had begun trying to find ways to minimize casualties in airstrikes.
"When the regime began using warplanes and helicopters on cities, people started thinking of ways to warn civilians," he told reporters via the Internet.
"After a lot of attempts at other things, they decided in the end to hook walkie-talkies up to the loudspeakers in the minarets of mosques," he said.
That allows activists to broadcast warnings across the town.
"Barrel bomb helicopter has entered airspace from the east. Civilians, take care. Clear the streets. Clear public spaces," one warning said.
In the northern province of Aleppo, residents and civil service volunteers use three walkie-talkie channels to share information about airstrikes, media activist Adel Bakhso said.
The networks near his town, Aandan, were established nearly three years ago and became crucial when the government began dropping bombs on it in 2014.
"In 2014, Aandan and the villages around it would get hit by at least 10 barrel bombs a day, not including airstrikes," Bakhso said.
"The monitors and civil defense team played an extraordinary role, letting people know when helicopters were coming in," he said.
When the alert goes out, people in towns like Aandan or Talbisseh have between five to seven minutes to take cover in cement basements or flee to a neighboring village.
Bakhso says Aandan's local council built five new shelters reinforced with cement blocks, some of them underground.
Russia's role in the Syrian conflict has added a new challenge for the monitors, who say they have been able to decode intercepted messages in Russian.
"After a while, the guys on the ground were able to break the Russians' communication code — as well as monitor the planes by sound and sight," Abu Nuh said.
"These warnings have saved the souls of many civilians... Ths is life or death for people in these areas," Abu Nuh said.
Comments will be moderated. Keep comments relevant to the article. Remarks containing abusive and obscene language, personal attacks of any kind or promotion will be removed and the user banned. Final decision will be at the discretion of the Taipei Times.