African rebel leader vows to block elections
DIFFICULT TIMES: As the Central African Republic prepares to vote on a proposed new constitution, one rebel leader said a vote in the current climate is not possible
An ex-Seleka rebel leader on Friday said he would not allow elections due later this month to take place in the regions of the Central African Republic under his control.
The country is preparing to hold a referendum on Sunday next week on a proposed new constitution ahead of nationwide polls on Dec. 27, following years of violence after a bloody coup in 2013.
"[In the north and east] there are no hospitals, no schools, no roads. That's what led us to take up arms," said Nourredine Adam, leader of the Popular Front for the Renaissance of Central Africa (FPRC), a splinter faction of the former Seleka rebel group, on the private radio station Ndeke Luka.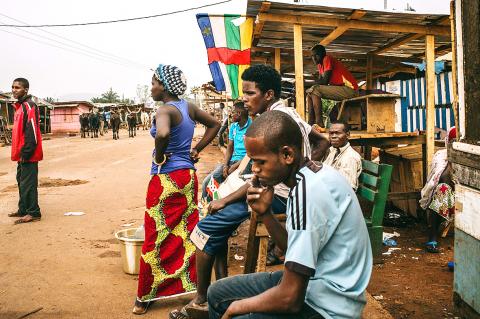 A group of young Muslims sit idle at an empty market stall in the PK5 district in Bangui, Central African Republic, on Wednesday.
Photo: AFP
"If they want to send in doctors or teachers, they will be welcome. But any other type of government worker we will not accept. Carrying out a vote in the current climate is not possible," he said.
A source familiar with the matter told AFP that: "It will potentially be difficult to hold elections in the Kaga Bandoro region," where Adam has been based since the end of September along with some 500 to 700 of his fighters.
One of the poorest and most unstable countries in Africa, the landlocked former French colony plunged into chaos after former president Francois Bozize, a Christian, was ousted in March 2013.
The mainly Muslim Seleka rebels behind the coup went on a bloody rampage that triggered the emergence of equally dangerous Anti-Balaka militias in mostly Christian communities.
The transition authority established after the Seleka were chased from power in a French-led military intervention last year is struggling to get the country back on its feet after decades of unrest and oppression.
Seleka itself has since split into multiple factions, of which the FPRC is among the most radical, refusing to acknowledge interim president Catherine Samba Panza.
Tensions remain high in the capital, where more than 100 people have been killed in attacks between the two sides since late September.
Pope Francis made a high-profile visit to the country last week to press for national reconciliation, declaring that Christians and Muslims were "brothers" who must reject hatred, but less than 24 hours after he left the violence resumed.
French Minister of Defense Jean-Yves Le Drian said that Paris would keep 900 troops stationed in the Central African Republic until a time when the new president would be "in a position to exert his authority."
"In Bangui, criminals are provoking insecurity and maintaining a state of permanent conflict," the weekly newspaper Jeune Afrique yesterday quoted him as saying.
France was initially supposed to reduce its operation in the country to 700 troops in the autumn, but kept the number at 900 following a fresh wave of violence in the Central African Republic's capital in September.
Comments will be moderated. Keep comments relevant to the article. Remarks containing abusive and obscene language, personal attacks of any kind or promotion will be removed and the user banned. Final decision will be at the discretion of the Taipei Times.