Crowds call for climate change action
ANTI-DEVELOPMENT: Australian Greens Party Senator Larissa Waters said the number of marchers showed how many oppose plans to exploit vast coal deposits
Thousands turned out for climate change marches in Manila and Brisbane yesterday, part of a weekend of action across the globe to demand results from next week's Paris summit.
Religious clergy, students and activists marched through the Philippine capital, calling for curbs on emissions, which are blamed for bringing climate change and a spike in typhoons and extreme weather to the nation.
The march, attended by more than 2,500 people according to police and expected to build throughout the day, was one of a number of events scheduled in different parts of the country. The Philippines has been identified as one of the most vulnerable countries to climate change.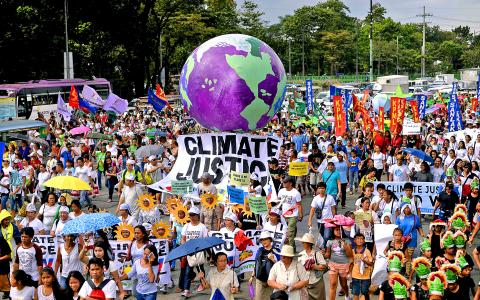 People march at a climate change event in Manila yesterday.
Photo: AFP
"Protect our common home," and "climate justice," were written on the placards held aloft by people.
"We want to send a message to the rest of the world, especially the world leaders at the climate talks, to say that our survival is not negotiable," said Denise Fontanilla, spokeswoman for the Asian People's Movement on Debt and Development.
Under heightened security two weeks after France's worst terror attack, about 150 heads of state and government on Monday are to launch a UN conference tasked with inking a post-2020, 195-nation climate rescue pact.
In Australia, where Melbourne on Friday was first among the weekend rallies, about 5,000 people gathered in the city of Brisbane for a march led by Aboriginal and Pacific Islander representatives and youth groups.
"We are walking together because we know what it's like to protect our country," said Larissa Baldwin, from an indigenous climate youth network.
Pacific islands are particularly at risk from the fallout of climate change, especially rising sea levels.
"These are people that are calling for a just transition to renewable energy," Baldwin told reporters.
Senator Larissa Waters from the Greens Party said the turnout, after tens of thousands marched in Melbourne, showed the strength of opposition to plans to develop more of Australia's vast coal deposits.
"They don't want new coal mines, they don't want massive land clearing, they actually want the environmental protection and job opportunities that comes from embracing clean energy," Waters told national television.
Organizers in Paris expected hundreds of thousands to take to the streets in Asian cities, as well as Johannesburg and Edinburgh, with similar events set for today in Seoul, Rio de Janeiro, New York and Mexico City.
In Paris, French authorities canceled two rallies following the onslaught by gunmen and suicide bombers that killed 130 people at restaurant terraces, a concert hall and the national stadium on Nov. 13.
Activists plan to create a 2km human chain along the original march route today. They are to break the chain as they pass the Bataclan theater, where the worst violence claimed 90 lives, as a mark of respect to those killed.
The goal of the Paris talks is to limit average global warming to 2oC over pre-Industrial Revolution levels by curbing fossil-fuel emissions.
About 40,000 people are expected at the Paris conference, including 10,000 delegates from 195 countries, plus journalists, observers, scientists, exhibitors and visitors.
Comments will be moderated. Keep comments relevant to the article. Remarks containing abusive and obscene language, personal attacks of any kind or promotion will be removed and the user banned. Final decision will be at the discretion of the Taipei Times.