Brussels reopens under tight security
EXTRA PRECAUTIONS: Concerts and sporting events have been canceled, but the weekend's Davis Cup tennis final is due to go ahead as planned in Ghent
Schools and much of the Brussels metro system reopened yesterday as the Belgian capital started to return to normal after four days of lockdown, but troops on the street were a reminder it remains on the highest of security alerts.
With police still hunting Salah Abdeslam, the prime suspect in the Nov. 13 attacks in Paris that killed 130 people, along with up to 10 others authorities fear could be planning further violence, the government said that it is only planning to review the alert status next week.
The city's schools were protected by 300 additional officers, some of whom were standing guard outside school gates as parents dropped their children off.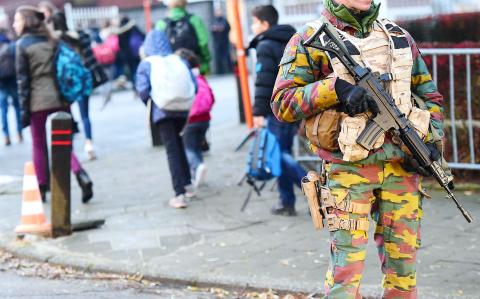 An armed soldier yesterday stand guards as pupils go to school at the French lycee in Brussels. Schools and some subway lines reopened after four days of lockdown, but the Belgian capital remained on the highest possible alert level for the fifth consecutive day under a maximum terror alert to find key Paris attacks suspects.
Photo: AFP
About half of the city's metro stations were open, notably in the city center, with about 200 soldiers assigned to protect them.
Abdeslam, 26, is suspected of being the eighth person Islamic State said took part in the attacks on Paris that killed 130 people. The Belgian government says he might be armed and dangerous and could be plotting further attacks.
More than two dozen people have been detained in Brussels since Nov. 13, though all have been released except for five. They have been charged with terror-related offences, including three who drove Abdeslam in their cars after the attacks in Paris.
Concerts and sporting events have been canceled, but the weekend's Davis Cup tennis final between Belgium and Britain is due to go ahead as planned in Ghent, west of the capital.
However, in nearby Bruges, the mayor ordered that today's Europa League soccer match between Club Bruges and the Italian side SSC Napoli should be held in an empty stadium because police were too tied up on other duties to provide crowd control.
Concerns about how long the problems might last were also evident. A large New Year's party at an exhibition center in Brussels has been cancelled, the event's organizers said.
In Paris, an investigation into the Nov. 13 attacks widened when French prosecutors said a man who provided lodging to the suspected ringleader must have known of a militant plot.
Painting a chilling picture of ringleader Abdelhamid Abaaoud, the Paris prosecutor said that after dropping off the jihadists at the cafes and bars where the attacks were to take place, he later returned to the scene while the killing spree was in full swing.
Prosecutor Francois Molins said Islamist militants who died during a shootout with police on Wednesday last week had been plotting an attack on the capital's business district.
Molins said he had put under formal investigation a Frenchman who had provided lodging for Abaaoud and his associates at the apartment in the suburb of St Denis.
"Jawad Bendaoud himself welcomed the terrorists on Nov. 17 towards 10:45pm. He could not have been in any doubt ... that he was taking part in a terrorist organization," Molins told a news conference.
Bendaoud said that before he was detained by police last Wednesday he had been asked to put up two people for three days in the apartment, but had no idea one of them might have been the suspected mastermind of the attacks.
Abaaoud died during the police raid along with Hasna Aitboulahcen, a woman believed to be his cousin, and an as yet unidentified third person.
Comments will be moderated. Keep comments relevant to the article. Remarks containing abusive and obscene language, personal attacks of any kind or promotion will be removed and the user banned. Final decision will be at the discretion of the Taipei Times.