Indonesia intends to join TPP: Widodo
WORKING TOGETHER: The US president said that the two leaders discussed the importance of arriving at targets before a global climate change summit in December
Indonesia's leader on Monday looked to cement his nation's growing ties with the US, declaring after a meeting with US President Barack Obama that Southeast Asia's largest economy intended to join a sweeping US-backed Pacific Rim trade deal.
Indonesian President Joko Widodo is making his first Washington visit since winning power a year ago, and is keen to drum up US investment in a flagging economy. US companies complain that economic protectionism makes it difficult to do business there.
"Indonesia intends to join the TPP [Trans-Pacific Partnership]," Widodo said in the Oval Office.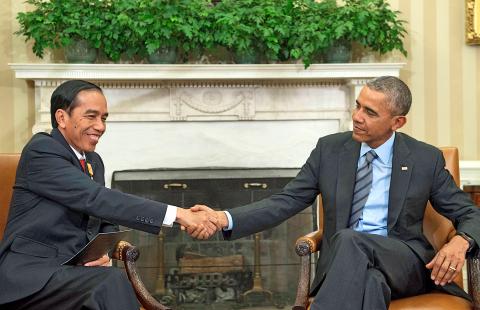 US President Barack Obama, right, shakes hands with Indonesian President Joko Widodo in the Oval Office at the White House in Washington on Monday.
Photo: AFP
He provided no other details, but described the Indonesian economy as open.
Obama said that Widodo was leading Indonesia in the "right direction."
"We want to be a partner with you," Obama said.
Indonesia had previously expressed interest in joining the TPP, but this is the strongest indication yet that it is serious about joining the pact, which the US has negotiated with 11 other nations. Once the pact is ratified and takes effect — a process that could take a couple of years — it would cut tariffs and streamline trade rules among nations that account for 40 percent of global GDP.
It could prove a tough sell in Indonesia, where Widodo faces stiff opposition to liberalizing the economy. According the World Bank's Ease of Doing Business rankings, Indonesia is 172nd out of 189 economies in the area of contract enforcement.
Speaking at a separate forum on Monday, US Trade Representative Michael Froman said the US has had "serious concerns" about investment barriers in Indonesia.
He did not specifically address the prospect of Indonesia joining TPP, but said: "Other countries who are able and willing to meet its standards, can potentially accede."
Obama and Widodo also discussed climate change and counterterrorism against groups like the Islamic State group. Indonesia is the world's largest Muslim-majority nation and largely moderate.
Another agenda item was maritime security cooperation, Obama said, alluding to tensions in the South China Sea, where a US Navy yesterday sailed inside what China considers its territorial waters around the disputed Spratly Islands (Nansha Islands, 南沙群島), which Taiwan, Malaysia, the Philippines, Vietnam and Brunei also state claims to. China has built artificial islands in the area to bolster its sovereignty claim.
In a joint statement, Obama and Widodo called for all parties to refrain from actions that raise tensions, but did not mention China by name. They affirmed the importance of freedom of navigation and overflight.
Indonesia balances its relations between the US and China — which is an even more important source of trade and investment than the US. Indonesia is not a claimant in the South China Sea, but is concerned about China's expansive maritime claims that might infringe on the territorial waters of the Natuna Islands that are part of the Indonesian archipelago.
Widodo has put little focus on foreign relations since he won election last year on a wave of popular support. His visit, which began on Sunday, is a chance to build a rapport with Obama, who spent part of his childhood in Indonesia.
However, the Indonesian leader was being shadowed by events at home: raging forest fires that have spread a thick, smoky haze over Indonesia as well as Malaysia, Singapore and Thailand.
Officials said Widodo would cut short his US visit to deal with the forest fire crisis. His schedule in Washington was to go ahead as planned, but he would skip a stop in San Francisco and was to fly home yesterday afternoon, officials said.
Indonesia is a leading source of greenhouse gas emissions, and the White House meeting came ahead of a global climate change summit.
Obama said he and Widodo had discussed "why it is so important that large countries like ours work together to arrive at the strongest possible set of targets and international agreements before we arrive in Paris in just over a month."
Widodo said they had agreed to work together on the issue "for the sake of future generations."
Researchers estimate that, since last month, emissions from Indonesia's rampant land and forest fires exceeded the average daily emissions from all US economic activity. That is because many of the fires are on peat lands that are extremely rich in carbon.
Comments will be moderated. Keep comments relevant to the article. Remarks containing abusive and obscene language, personal attacks of any kind or promotion will be removed and the user banned. Final decision will be at the discretion of the Taipei Times.