Geeta, a lost Indian girl, prepares to go home to family
BOLLYWOOD SPOTLIGHT: A woman who was separated from her family as a child is to have DNA tests to determine if a family she keeps a photograph of is her own
Accidentally stranded in Pakistan for more than a decade, the young deaf-mute woman shows off a single treasured photograph of the people she believes are her long-lost family in India and who she is to soon travel to meet.
Known only as Geeta, she has been stuck in Pakistan ever since she wandered over one of the world's most militarized borders from India more than 10 years ago.
Lost and alone, unable to identify her family or where she came from, she has remained in Pakistan under the care of the country's largest welfare organization, the Edhi Foundation, living in a shelter in the port city of Karachi.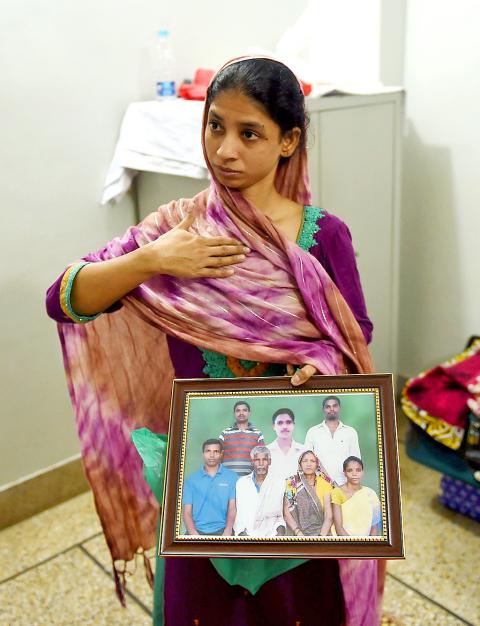 Geeta, a deaf-mute Indian woman, holds a photograph on Thursday of a family in India which she believes is her family.
Photo: AFP
Now — after repeated false leads, and thanks to a Bollywood hit and the photograph — Geeta believes she has finally identified her family.
On Monday, she is set to fly to Delhi, where she hopes to be reunited with her loved ones.
"This is my father, and my younger brother," Geeta said during an interview in Karachi this week using a combination of sign language and facial expressions as she pointed to the photograph showing the family from the Indian state of Bihar.
A woman also shown in the picture is believed to be her stepmother.
Though her eyes glistened during the interview, Geeta appeared calm and confident, expressing no doubt that her family had been found.
She even showed off the clothes she plans to wear for the Hindu festival of Diwali in India next month: a scarlet blouse and turquoise ghagra, or long skirt, heavily embroidered.
However, questions remain. The unnamed family she has identified say that the daughter they lost was married and had a baby when she disappeared — but Geeta is believed to have only been about 11 or 12 years old when she was found by Pakistani police.
"She is quite sure about her father and brothers, but she will take a DNA test in India before she is handed over to the family," said Bilqees Edhi, matriarch of the Edhi family, who fostered Geeta at the foundation's center for hundreds of abandoned and orphaned children in Karachi.
Geeta, who is believed to be in her twenties, was alone and disorientated with no identity papers when police found her on a train that had crossed the border from India into the eastern city of Lahore. She was thought to have strayed into Pakistani territory by mistake, but could not remember or explain exactly where she was from, and police soon handed her over to the Edhi Foundation. Even the name "Geeta" was given to her by Edhi staff.
Years slipped by, but her case was given a fresh boost in August after the release of a Bollywood movie that told the mirror image of her story — a mute, young Pakistani woman ends up trapped in India.
Bajrangi Bhaijaan, featuring Indian superstars Salman Khan and Kareena Kapoor, became a smash hit. The spotlight returned to Geeta, and the Indian government pledged to bring her home.
Authorities turned up many families saying that Geeta could be their daughter, but she claimed to recognize the family from Bihar, and has kept their framed picture in a steel case ever since.
On Friday, Indian a Ministry of External Affairs spokesman rejected the suggestion that Geeta's return had been arranged too hastily, given her ties with the family were not yet established.
"Everything we have done so far has been with the full knowledge and concurrence of Geeta and Edhi Foundation," he said in New Delhi.
If her DNA does not match that of the family, who have traveled to Delhi specially to greet her, Indian authorities have said they will find a home for Geeta in a "suitable institution."
Geeta is taking three suitcases with her loaded down with gifts: glass bangles for her stepmother, dried fruits for her brothers and lots of clothes.
"We are sad that she is leaving," Saba Ehi, one of the members of the Edhi family who is to accompany Geeta to Delhi, said.
"But we are happy that she is going to see her parents and their own people," Ehi said.
Comments will be moderated. Keep comments relevant to the article. Remarks containing abusive and obscene language, personal attacks of any kind or promotion will be removed and the user banned. Final decision will be at the discretion of the Taipei Times.