Myanmar's US$31bn jade trade profits the elite: report
Myanmar's secretive jade industry is worth an estimated US$31 billion, far higher than official accounts, with most profits going to powerful military and former junta figures instead of the state coffers, a corruption watchdog said yesterday.
Shady income derived from the trade has long driven conflict in Myanmar, undermining efforts to stabilize its nascent democracy ahead of landmark elections next month, an investigation by London-based Global Witness said.
Jade mining, which was firmly in the hands of the military and the elite during the final years of junta rule, remains cloaked in secrecy, despite reforms under a quasi-civilian government that came to power in 2011.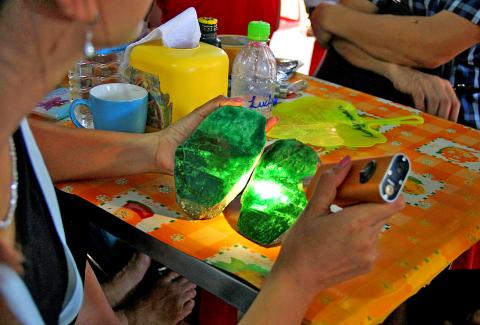 A man uses a flashlight to determine the quality of a jade stone in the Hpakant area of Kachin State, Myanmar, on Sept. 18.
Photo: AP
In a report published yesterday, Global Witness estimated the value of jade produced last year was about US$31 billion — far exceeding the US$3.4 billion sold at Myanmar's gem emporium last year, the nation's only official market for international sales of the precious stone.
The estimated value of last year's jade haul would amount to almost half of the impoverished nation's GDP.
"The numbers are staggering," Global Witness' Juman Kubba said.
She added that there has been a "massive escalation" in jade extraction ahead of the Nov. 8 elections since large-scale mining resumed in September last year.
The vote, if free and fair, is likely to be swept by Aung San Suu Kyi's opposition, which is contesting a general election for the first time in 25 years.
The watchdog also alleged links between jade firms and powerful figures in the military, the drugs trade and the former junta, including Senior General Than Shwe's family.
"You are talking about the people with the most to lose from genuine democracy making huge amounts of money, so that raises questions," Kubba said.
Most of the world's best quality jadeite is mined in Hpakant, a strip of torn earth in Myanmar's insurgency-wracked northern Kachin state which borders China, a nation with a voracious demand for the precious stone.
The Global Witness valuation of jade mining in Myanmar is based on factors such as government production data, official sales prices and industry reports suggesting that up to 80 percent of the precious stone is smuggled directly out of the country.
Jade from Myanmar, which is still under US sanctions, is highly prized in China as a symbol of virtue and power. Official Chinese import data from last year indicates that more than US$12 billion of precious stones were imported from Myanmar — the vast majority jade — dwarfing Myanmar's official figures.
Comments will be moderated. Keep comments relevant to the article. Remarks containing abusive and obscene language, personal attacks of any kind or promotion will be removed and the user banned. Final decision will be at the discretion of the Taipei Times.