Somalian extremists might have taken soldiers prisoner: Ugandan president
'ASLEEP': The head of state blamed his nation's military commanders after an attack on a base near Mogadishu, adding they were relieved of duty and are to face trials
The leader of Uganda yesterday conceded that Muslim extremists in Somalia might have taken some of his country's troops as prisoners and blamed his own commanders for being "asleep" in allowing a recent attack on an African Union base.
Ugandan President Yoweri Museveni said that 19 soldiers were killed and six were missing following the Sept. 1 attack. The militant group al-Shabaab has said it killed 50 Ugandan soldiers at the base in Janale, 65km southwest of the Somalian capital, Mogadishu.
"It was the mistake of our own soldiers," Museveni told a small group of reporters in Tokyo, where he was wrapping up a visit to discuss Uganda-Japan ties. "Our commanders were asleep, not alert. And we have suspended those commanders. They will face a court marital."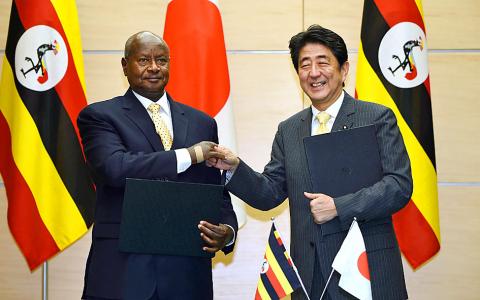 Ugandan President Yoweri Museveni, left, shakes hands with Japanese Prime Minister Shinzo Abe at Abe's official residence in Tokyo on Thursday.
Photo: AFP
Ugandan troops are part of an African Union Mission to Somalia to help the government fight al-Shabaab, which is allied with the al-Qaeda network.
The militants have been driven from Mogadishu and other strongholds, but still operate in some rural parts of the country and carry out deadly attacks. Museveni dismissed suggestions that they remain a potent force, attributing the success of the recent attack to Ugandan military weaknesses.
"They are not strong, al-Shabaab are bankrupt," he said. "We shall defeat them. We have already defeated them."
Ugandan troops are also supporting the government in neighboring South Sudan, where a fragile peace deal with rebels was signed last month. Museveni said his troops would pull out once there is no more threat, and justified the intervention as a way to prevent refugee crises like the ones engulfing the Middle East and Europe.
"You see how people are suffering in the Middle East, those who are sinking in the ocean. I saw on TV this morning the Hungarians throwing food at people as if they are dogs," he said.
"We don't want that to happen in a country like South Sudan, which is part of our people, he added."
Museveni, one of the continent's longest-serving presidents, also indicated he saw no need to keep pursuing anti-gay legislation that he signed last year, but was later thrown out by a court. The proposed law was widely criticized in the West, including by US President Barack Obama.
"That law was not necessary, because we already have a law, which was left by the British, which deals with this issue," he said, referring to an anti-sodomy law that dates from the colonial era.
Museveni was in Japan to discuss economic and other issues. He called for more Japanese investment, trade and tourism in Uganda, to complement Japan's development assistance for infrastructure projects. During his visit, the two countries signed a loan agreement for road improvement in Kampala, the Ugandan capital.
Comments will be moderated. Keep comments relevant to the article. Remarks containing abusive and obscene language, personal attacks of any kind or promotion will be removed and the user banned. Final decision will be at the discretion of the Taipei Times.