Final death toll set at 173 in Tianjin explosions, as death certificates issued
Chinese authorities ended the search for the remaining eight missing in a massive chemical warehouse explosion last month, setting the final death toll at 173 in China's worst industrial disaster in years.
The announcement on the Tianjin city government's microblog said there was no hope of finding the eight people and the court is going to start issuing death certificates.
"After thorough investigations by all parties, it is certain that there is no possibility of survivors," said the statement, posted late on Friday night.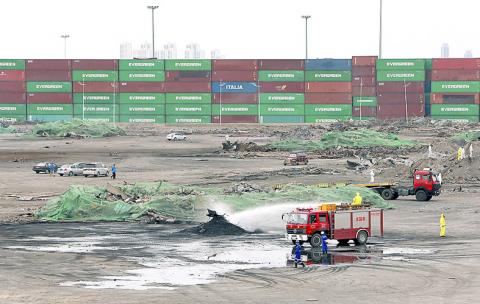 A firefighter truck sprays liquid as workers clean up the site at the center of the Aug. 12 explosions yesterday at Binhai new district in Tianjin, China.
Photo: Reuters
The eight include five firefighters, underscoring the explosion's status as the worst ever disaster for Chinese first responders, more than 100 of whom were killed, including police officers. Among firefighters, 104 were killed.
Investigations into the Aug. 12 blasts at the Ruihai International Logistics warehouses showed they were located closer to homes than permitted and stored much more hazardous material than authorized, including 700 tonnes of highly toxic sodium cyanide.
A series of massive explosions late at night shattered windows and tore facades off buildings for kilometers around, while launching debris including heavy steel storage canisters into nearby communities with the force of an artillery shell. Disgruntled homeowners have held numerous protests demanding the government buy back their apartments, saying they are unlivable.
The disaster has raised questions about corruption and government efficiency, potentially tarnishing the communist government led by Chinese President Xi Jinping (習近平), who has made those two issues a hallmark of his administration.
Authorities are investigating malfeasance in the issuing of permits and regulation of the company, and have detained 12 of its employees and executives. They include the primary owner, who was on the board of a state-owned company and kept his ownership of Ruihai hidden as a silent partner. Also detained as part of the investigation are 11 government officials, while State Administration of Work Safety director Yang Dongliang (楊棟樑) has been placed under investigation for corruption.
Yang had previously worked for 18 years in Tianjin in state industry and local government, rising to executive vice mayor. Authorities say they have sealed all waterways leading out of the blast zone to curb cyanide contamination as teams in hazmat suits clean up hazardous debris.
According to the Tianjin Environmental Protection Bureau, water samples inside the disaster zone have shown levels of cyanide as high as 20 times above that considered safe. No cyanide has been detected in nearby seawater or areas outside the 3km radius quarantine zone.
Comments will be moderated. Keep comments relevant to the article. Remarks containing abusive and obscene language, personal attacks of any kind or promotion will be removed and the user banned. Final decision will be at the discretion of the Taipei Times.