Typhoon lashes Ryukyus, Philippines toll increases
Typhoon Goni yesterday lashed Japan's Ryukyu Islands with heavy rains and winds, as the death toll rose to 19 in the northern Philippines. The latest victims include a nine-month-old boy and his two-year-old sister who drowned in flash floods.
Wind gusts of 256kph, a local record, flipped over cars and toppled utility poles overnight on the remote Japanese island of Ishigaki, near Taiwan, Japanese media reported.
The storm was heading north toward Japan's southernmost main island of Kyushu.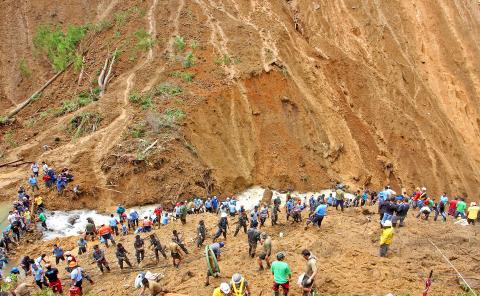 Rescuers yesterday search for missing miners and their families buried before dawn on Saturday in a landslide triggered by days of heavy rains brought by Typhoon Goni, in Mankayan, Benguet, in northern Philippines.
Photo: Reuters
Sixteen people were also listed as missing in the Philippines.
Landslides killed at least 13 people in the mountain province of Benguet, including four gold miners who were pulled out of a huge mudslide that buried three work camps. A dozen miners were missing and more than 100 policemen and fellow miners dug through the mud amid fading hope that survivors would be found, officials said.
Benguet Governor Nestor Fongwan said days of pounding rain and a swollen creek saturated a mountain slope, which cascaded down the gold-mining area at dawn Saturday.
"They were sleeping when a huge chunk of the mountain came down and buried their work sites," he said by phone.
Six people died elsewhere in the north, and four others were missing, according to the Philippines Office of Civil Defense.
The infant and his toddler sister drowned after floods swept away their riverside shanty in Subic town in northwestern Zambales province early yesterday. Their five-year-old brother remains missing.
Philippine army helicopters yesterday airlifted food, water and relief supplies to thousands of families who fled their homes during a typhoon, disaster officials said.
More than 30,000 people were evacuated in the northern Philippines due to fears of flooding and landslides as more nearly 1,000 homes were destroyed by Goni.
More than 5,000 people were marooned in about eight villages in Ilocos Sur.
Army trucks were moving north after soldiers cleared major roads of uprooted trees and toppled power lines.
Additional reporting by Reuters
Comments will be moderated. Keep comments relevant to the article. Remarks containing abusive and obscene language, personal attacks of any kind or promotion will be removed and the user banned. Final decision will be at the discretion of the Taipei Times.