Recovery efforts for Indonesian crash hampered
INVESTIGATION BEGINS: Officials from a French air accident agency as well as advisers of the plane maker were to arrive in Indonesia to look into the accident
Bad weather yesterday hampered efforts to recover the bodies of 54 passengers and crew killed when a plane crashed in remote eastern Indonesia, an official said.
The plane operated by Indonesian carrier Trigana Air went down on Sunday during a short flight in bad weather in Papua Province, killing everyone on board.
Rescuers finally reached the crash site, near the settlement of Oksibil, which had been the plane's destination, two days later after initial efforts were hindered by the rough terrain, thick fog and heavy rain.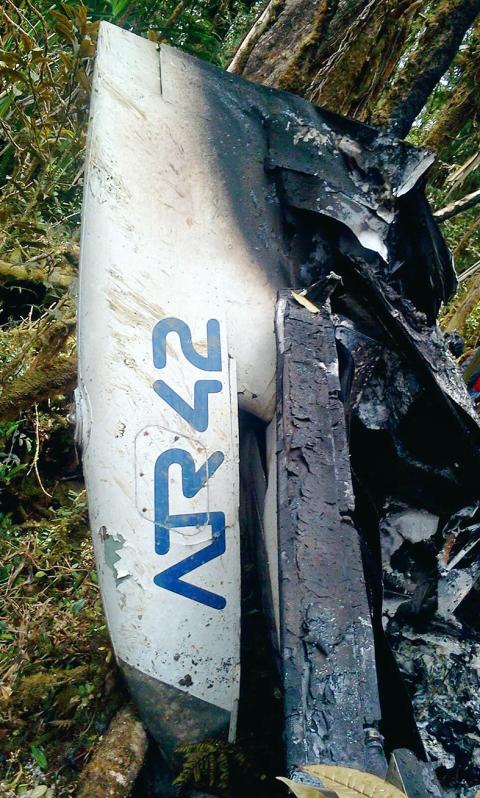 The burned tip of the tail of the Trigana Air ATR 42-300 twin-turboprop plane lies among wreckage at the crash site in Papua Province, Indonesia, on Tuesday.
Photo: AFP
They found the ATR 42-300 twin-turboprop aircraft in pieces scattered across a fire-blackened clearing and the bodies of those who had been aboard. They also recovered the plane's black box flight data recorders.
It was just the latest air accident in Indonesia, which has a poor aviation safety record and has suffered major disasters in recent months, including the crash of an AirAsia plane in December last year with the loss of 162 lives.
Authorities planned to airlift the dead from the site, but continuing bad weather had so far made this impossible, Trigana Air's service director of operations Beni Sumaryanto said.
"The weather is not good today, only 500 meters visibility," he told reporters from Jayapura, Papua's capital. "It's terrible."
Two helicopters were ready to help with the recovery, he said.
About 75 people stayed overnight near the crash site expecting to begin the recovery yesterday.
A team of three investigators from France's BEA agency, which probes air accidents, has headed to Indonesia along with four technical advisers from ATR, a European plane maker based in France, to look into the accident.
The plane was also carrying 6.5 billion rupiah (US$470,000) in social assistance funds that were to be distributed to poor families. Some of the money has been found, although some of it was burned in the crash.
The plane had set off from Jayapura on what was supposed to be a 45-minute flight to Oksibil, but lost contact 10 minutes before landing as it sought to descend in heavy cloud and rain.
The airline has said the accident was likely caused by bad weather.
Comments will be moderated. Keep comments relevant to the article. Remarks containing abusive and obscene language, personal attacks of any kind or promotion will be removed and the user banned. Final decision will be at the discretion of the Taipei Times.