Ex-Sri Lankan strongman takes narrow early lead
Sri Lanka's former strongman leader had a narrow lead in early parliamentary elections results yesterday as he awaits a verdict on his comeback bid eight months after being unseated in a shocking election loss.
Former Sri Lankan president Mahinda Rajapaksa's United People's Freedom Alliance won 21 of the 225 seats in results released so far from Monday's vote, while his closest rival, Sri Lankan Prime Minister Ranil Wickremesinghe's United National Party, has won 20.
Rajapaksa, Sri Lanka's leader for nine years until his Jan. 8 presidential election defeat to a former ally, was running for prime minister, a position that is second to that of president in the country.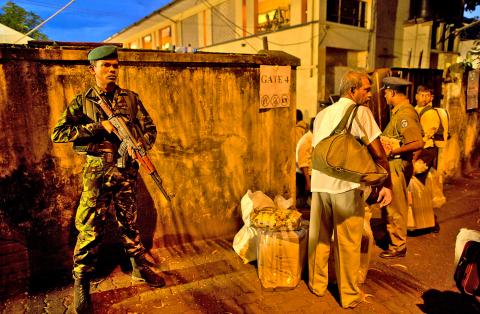 A member of Sri Lanka's elite police force stands guard as officials bring sealed boxes of ballot papers to a vote counting center in Colombo, Sri Lanka, on Monday.
Photo: AP
However, he faces a daunting hurdle, because his party's leader and the man who beat him in the election, Sri Lankan President Maithripala Sirisena, has vowed not to appoint him prime minister even if he secures a majority.
If Rajapaksa does win a majority, it is likely to result in a protracted power struggle, with his loyalists likely to pressure Sirisena to appoint him prime minister.
Since the presidential election loss, there has been a reversal of fortunes for Rajapaksa, his family and friends, who were once all powerful controllers of the island nation. Some of them now face investigations or lawsuits for corruption, misuse of power and even murder.
Sri Lankan Election Commissioner Mahinda Deshapriya said the election was incident-free, other than some minor complaints.
Police spokesman Ruwan Gunasekara said 35 people were arrested for election law violations.
Rajapaksa was hailed a warrior king for defeating the Tamil Tiger separatists to end a nearly 26-year civil war. However, he is accused of using his popularity to take control of Sri Lanka's Parliament, courts, armed forces and all government institutions.
He was also accused of widespread human rights abuses and suppressing freedoms.
Comments will be moderated. Keep comments relevant to the article. Remarks containing abusive and obscene language, personal attacks of any kind or promotion will be removed and the user banned. Final decision will be at the discretion of the Taipei Times.