Air pollution killing 4,000 a day in China, study says
LONG REACH: The researchers concluded that much of the smog that shrouds Beijing comes from emissions in a corridor that runs from Shanghai to north of the capital
Air pollution is killing an average of 4,000 people a day in China, according to researchers who cited coal-burning as the likely principal cause.
Deaths related to the main pollutant, tiny particles known as PM2.5 — airborne pollutants measuring less than 2.5 micrometers — that can trigger heart attacks, strokes, lung cancer and asthma, total 1.6 million a year, or 17 percent of China's mortality level, according to the study by Berkeley Earth, an independent research group in the US funded largely by educational grants.
The study was published on Thursday in the online peer-reviewed journal PLOS ONE from the Public Library of Science.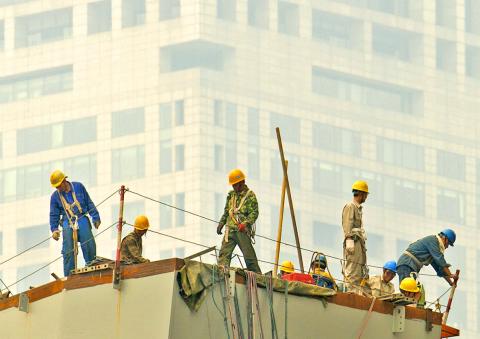 Construction workers labor on a smoggy day in Beijing, China, on June 16.
Photo: AP
"When I was last in Beijing, pollution was at the hazardous level: Every hour of exposure reduced my life expectancy by 20 minutes," Richard Muller, scientific director of Berkeley Earth and a coauthor of the paper, said in an e-mail. "It's as if every man, woman and child smoked 1.5 cigarettes each hour."
Chinese authorities have acknowledged the air pollution situation after heavy smog enveloped swathes of the nation including Beijing and Shanghai in recent years. They have adopted air quality standards, introduced monitoring stations and cleaner standards for transportation fuel while shutting coal plants and moving factories out of cities.
"The PM2.5 concentrations far exceed standards, endangering people's health, though air quality has improved in the first half in the 358 Chinese cities," said Dong Liansai (董連賽), climate and energy campaigner at Greenpeace East Asia.
Muller and coauthor Robert Rohde analyzed four months of hourly data for about 1,500 ground stations in China, Taiwan, South Korea and other countries in the region. They then employed a model used by the WHO to calculate the disease burden.
They also said they were publishing the raw data so other researchers could use it to perform their own studies.
They found that 92 percent of China's population experienced at least 120 hours of unhealthy air during the study period that ran from April 5 to Aug. 5 last year. For 38 percent of the population, the average pollution level across the entire four-month period was deemed unhealthy.
About 90 percent of the 161 cities whose air quality was monitored last year failed to meet official standards, according to China's National Bureau of Statistics.
The Berkeley Earth researchers also examined where the pollutants were detected and concluded that the sources of PM2.5 matching those for sulfur dioxide suggests most of the pollution comes from burning coal.
"Sources of pollution are widespread but are particularly intense in a northeast corridor that extends from near Shanghai to north of Beijing," the researchers wrote. "Extensive pollution is not surprising since particulate matter can remain airborne for days to weeks and travel thousands of kilometers."
China gets about 64 percent of its primary energy from coal, according to data from its National Energy Administration. It is closing the dirtiest plants while still planning new, cleaner ones.
To cut reliance on coal, China also wants to derive 20 percent of its energy from renewables and nuclear by 2030, almost double the current share.
The Chinese government is sensitive about public data showing that air pollution is killing its citizens, or even allusions to such a conclusion. Though the authorities have gradually permitted greater public access to air quality readings, censors routinely purge Chinese Web sites and social media channels of information that Chinese Communist Party worries might spark popular unrest.
In March, after a lengthy documentary video about the health effects of air pollution circulated widely online, the party's central propaganda department ordered Chinese Web sites to delete it.
Berkeley Earth is funded mainly by educational grants and supported by the US Department of Energy. It was started in 2010 to examine global temperatures to see if there was merit in the concerns of skeptics of climate change and has since expanded research to other areas of global warming and air pollution.
Additional reporting by NY Times News Service
Comments will be moderated. Keep comments relevant to the article. Remarks containing abusive and obscene language, personal attacks of any kind or promotion will be removed and the user banned. Final decision will be at the discretion of the Taipei Times.