'No agreement' as Yemen peace talks end in Geneva
SLOW PROCESS: As the peace talks wound up, the UN launched an appeal for US$1.6 billion to help deal with the 'looming humanitarian catastrophe' in the war-torn nation
Yemen peace talks ended in Geneva on Friday with no agreement, but the UN said it was still optimistic a ceasefire could be reached "pretty soon."
"I won't beat around the bush. There was no kind of agreement reached," UN Special Envoy for Yemen Ould Cheikh Ahmed said.
However, he hailed "certain positive signs" in his negotiations with the warring factions, adding that both sides seemed to agree on the need for a ceasefire.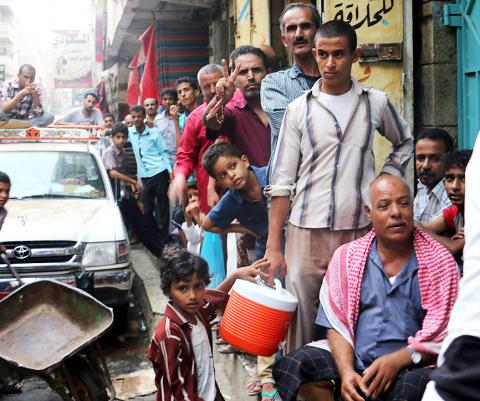 Yemenis wait to buy food and water in Taiz, Yemen, on Friday. The UN aid coordinator said that a sum of US$1.6 billion is needed this year for aid in Yemen.
Photo: EPA
"We feel that it requires simply some further consultations and that we can achieve it pretty soon," said the envoy, who now heads to New York to brief UN Secretary-General Ban Ki-moon and the UN Security Council.
No date has yet been set for a fresh round of talks, but the Mauritanian diplomat said he hoped a desperately needed humanitarian pause in the fighting could be put in place before any new talks.
Yemen has been wracked by conflict between Iran-backed Shiite rebels and troops loyal to exiled Yemeni President Abd Rabbu Mansour Hadi, who fled to Saudi Arabia in February.
REBEL TERRITORY
The rebels have overrun much of the Sunni-majority country and, along with their allies among forces loyal to ousted Yemeni president Ali Abdullah Saleh, have been the target of Saudi-led air strikes since March. More than 2,600 people have been killed.
"I am disappointed, we did everything to make the talks a success, but there were too many obstacles, especially the demand for a withdrawal," rebel delegation leader Hamza al-Huthi said. "We cannot withdraw and leave a vacuum, but I am hopeful that we will be able to talk again in the near future."
Ban launched the high-stakes Geneva negotiations on Monday with an appeal for a two-week humanitarian truce during the holy Muslim month of Ramadan.
However, the belligerents' positions were so far apart that they did even sit down in the same room, forcing Ould Cheikh Ahmed to shuttle between separate locations.
Yemen's exiled foreign minister blamed the lack of progress on the rebel delegation.
"We really came here with a big hope ... but unfortunately the Huthi delegation did not allow us really to reach real progress as we expected," Yassin told reporters.
The government delegation remained optimistic of a peaceful solution for Yemen "under the umbrella of the UN," he added.
However, Ould Cheikh Ahmed however insisted that just getting the two sides to Geneva had been "a great achievement," as he pledged to intensify his push for peace.
'LENGTHY PROCESS'
"The Geneva consultations are not the end in themselves, but the launch of a long and arduous path" towards finding a peaceful solution, he said.
And the US said the Geneva talks were "a useful start to the process to what will probably be a lengthy process."
"We continue to urge all Yemeni participants to prioritize reaching an agreement to end the fighting," US Department of State spokesman John Kirby said.
As the talks wrapped up on Friday, the UN launched an appeal for US$1.6 billion to help millions of people in need in the war-ravaged country.
"I am deliberately raising the alarm about the looming humanitarian catastrophe facing Yemen, where over 21 million Yemenis, 80 percent of the country's population, are in need of some form of aid to meet their basic needs or protect their basic rights today," UN Undersecretary-General for Humanitarian Affairs and Emergency Relief Coordinator Stephen O'Brian told reporters.
FUNDING APPEAL
"These numbers are difficult to comprehend," he said, but insisted "we must not grow numb to the suffering of each and every individual who lies behind them."
Friday's funding appeal will cover aid, including food, water and shelter, to 11.7 million of the most vulnerable people in need through the end of the year.
The appeal was revised up from a combined US$1.02 billion requested in December and April for Yemen.
Only about one-fifth of the needed cash has so far been received, the UN said.
Comments will be moderated. Keep comments relevant to the article. Remarks containing abusive and obscene language, personal attacks of any kind or promotion will be removed and the user banned. Final decision will be at the discretion of the Taipei Times.