Heavy rains in China kill 18, four missing
WHEN IT RAINS, IT POURS: Storms dumped more than 20cm of rain in 48 hours, toppling houses, causing landslides and drowning 17,000 pigs at a hog farm
Heavy storms that swept through several southern Chinese provinces this past week have killed at least 18 people and left four more missing, the Chinese Ministry of Civil Affairs said.
The storms have dumped more than 20cm of rainfall in 48 hours on some towns, toppled thousands of homes and dislocated tens of thousands of residents, the ministry said on Friday.
The deaths were caused by house collapses, landslides, drowning or lightning.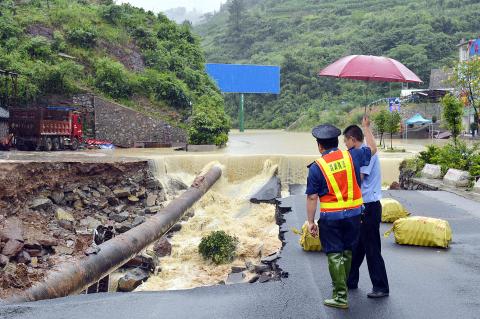 Government officials look at a road that collapsed due to flooding in Kaili City in southwestern China's Guizhou Province on Thursday.
Photo: AP
Hubei Province, where the heaviest rainfalls were recorded, reported the highest death toll, 10.
The local civil affairs agency said that 664,000 people were affected.
In the neighboring province of Hunan, the storms affected 527,000 people.
Another five people were reported dead in the municipality of Chongqing. Guizhou Province reported two deaths, while one person died in Anhui Province.
Authorities were also trying to dispose of nearly 17,000 pigs that drowned in heavy rain in the southwestern region of Guangxi.
Xinhua news agency yesterday said a foul smell permeated the air at a hog farm where the animals died nearly a week ago in a rain that dumped 39cm in 20 hours on the village of Liuye.
Comments will be moderated. Keep comments relevant to the article. Remarks containing abusive and obscene language, personal attacks of any kind or promotion will be removed and the user banned. Final decision will be at the discretion of the Taipei Times.