Former leaders urge Abe to keep wartime apologies
'WEIGHT OF HISTORY': The former Japanese leaders said that a new statement by Abe might not even be necessary and that the international community would be watching
Two former political leaders who apologized over Japan's World War II atrocities said Japanese Prime Minister Shinzo Abe should not water down their words when he marks the 70th anniversary of the war's end.
Japanese leaders' war anniversary statements have always been closely watched, and this year's is getting extra attention because it is a key anniversary and Abe is considered a revisionist.
Former Japanese prime minister Tomiichi Murayama, who authored Japan's landmark 1995 apology on the 50th anniversary of the end of the war, said Abe should "honestly spell out" the country's wartime actions to address growing international concern that he might revise history.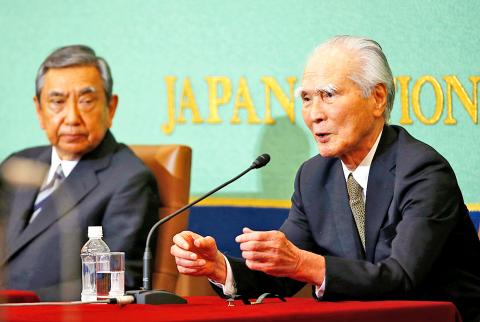 Former Japanese prime minister Tomiichi Murayama, right, speaks as former chief Cabinet secretary Yohei Kono listens during a press conference in Tokyo on Tuesday.
Photo: AP
Yohei Kono, who as Japanese chief Cabinet secretary in 1993 apologized to people affected by Japan's wartime military exploitation, said he wondered whether a new statement by Abe is even necessary.
Kono said a statement to mark the 70th anniversary, if issued, should not backpedal from any of the apologies that Abe promised to inherit from nearly a dozen past leaders.
"The international community is watching what [Abe] is really thinking," Murayama told reporters during a rare joint appearance with Kono at the Japan National Press Club in Tokyo.
"It is important to clear any doubts that he has raised overseas," Murayama said.
The historic statements by both men were highly regarded internationally as signs that Japan had come to terms with its wartime past and they improved relations with its Asian neighbors.
However, both statements have become unpopular among Japanese conservatives, who say Japan should stop focusing on negative history to restore national pride.
Kono warned that any attempt to whitewash historical facts "hurts the Japanese people's reputation."
Since taking office in December 2012, Abe has said he would not necessarily follow the Murayama apology. He also has said there is no evidence that so-called comfort women were exploited through coercion by Japanese authorities, remarks seen by critics as undermining the Kono apology.
However, after criticism from China and South Korea, Abe later promised not to change either of the statements.
Tokyo's relations with the two nations, which were affected by its wartime militarism, have worsened under Abe's leadership, particularly with South Korea — a former Japanese colony and where many of the comfort women were from.
Abe has given mixed signals as to how closely his upcoming statement will mirror Murayama's apology. He is seen as avoiding the terms aggression, colonial rule and atrocities, including comfort women.
Murayama and Kono said those were undeniable historical facts that must be remembered to maintain trust and confidence.
Abe has convened experts to advise him on what to say.
In his past Aug. 15 speeches, Abe omitted war apologies. He merely said Japan faces its past and keeps its peace pledges.
Murayama said on Tuesday that the point is not for Abe to offer an empty apology, but to show the world that Japan's leader has squarely faced the country's wartime past and pursued its pacifist pledges.
Comments will be moderated. Keep comments relevant to the article. Remarks containing abusive and obscene language, personal attacks of any kind or promotion will be removed and the user banned. Final decision will be at the discretion of the Taipei Times.