Hundreds of homes swept away by flooding in Texas
RAINING BUCKETS: Heavy rainfall caused the River Blanco to crest above 12m, while 350 to 400 houses are said to have been destroyed by flooding in Hays Country
A line of storms stretching from the Gulf of Mexico to the Great Lakes dumped record rainfall on parts of the plains and midwest, spawning tornadoes and causing major flooding that forced at least 2,000 Texans from their homes.
Three deaths were blamed on the storms on Saturday and Sunday, including two in Oklahoma and one in Texas, where a man's body was recovered from a flooded area along the Blanco River, which rose 8m in an hour and created huge piles of debris.
The line of storms on Sunday night prompted tornado warnings and watches as far north as Illinois, and the weather system was expected to linger over a large swath of the region yesterday, putting a damper on some Memorial Day plans.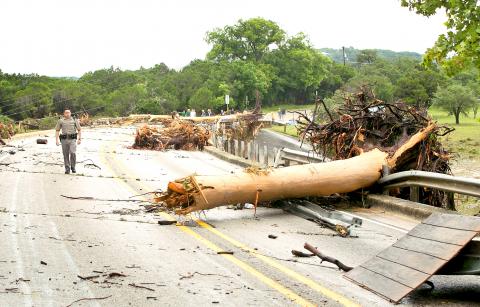 Department of Public Safety Trooper Marcus Gonzales walks over a bridge on Highway 12 in Wimberly, Texas, on Sunday.
Photo: Reuters
Among the worst-affected communities were Wimberley and San Marcos, which are in central Texas along the Blanco River between Austin and San Antonio.
"It looks pretty bad out there," Hays County emergency management coordinator Kharley Smith said of Wimberley, where an estimated 350 to 400 homes were destroyed and three people remained missing late on Sunday.
"We do have whole streets with maybe one or two houses left on them and the rest are just slabs," Smith added.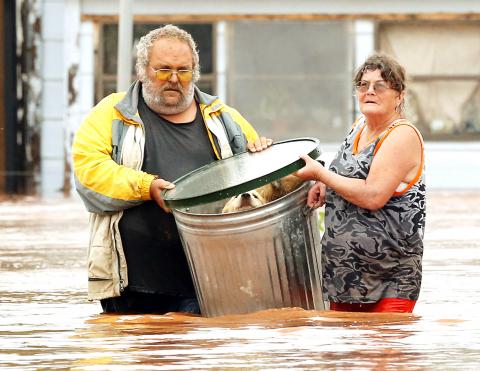 George and Susan Kruger make one of three trips with their animals from their flooded house to safety on Sunday, in Purcell, Oklahoma. The Krugers refused to leave their home, as they have five dogs.
Photo: AP
San Marcos spokeswoman Kristi Wyatt said about 1,000 homes were damaged throughout Hays County, which includes Wimberley, and which Texas Governor Greg Abbott was to tour yesterday.
Five San Marcos police cars were washed away and the fire house was flooded. The city imposed a 9pm curfew on Sunday that would remain in place overnight.
Rivers swelled so quickly that whole communities awoke on Sunday surrounded by water.
The Blanco crested above 12m — more than triple its flood stage of 4m — swamping Interstate 35 and forcing parts of the busy north-south highway to close. Rescuers used pontoon boats and a helicopter to pull people out.
Hundreds of trees along the Blanco were uprooted or snapped, and they collected in piles of debris that soared 6m.
"We've got trees in the rafters," said Cherri Maley, the property manager of a house whose entire rear portion had collapsed with the flooding, carrying away furniture.
"We had the refrigerator in a tree," she said. "I think it's a total loss."
About 1,000 residents were evacuated from roughly 400 homes near an earthen dam at Lake Lewis, about 80km north of Houston, Texas. Montgomery County emergency management officials fear the dam could fail due to the flooding. Agency spokeswoman Miranda Hahs said it was not clear when residents would be allowed to return home.
Dallas faced severe flooding from the Trinity River, which yesterday was expected to crest at about 12m and lap at the foundations of an industrial park. The Red and Wichita rivers also rose far above flood stage.
In Colorado, a mandatory evacuation notice was issued on Sunday for residents in the northeastern city of Sterling, and several counties planned to ask the governor for a disaster declaration.
Comments will be moderated. Keep comments relevant to the article. Remarks containing abusive and obscene language, personal attacks of any kind or promotion will be removed and the user banned. Final decision will be at the discretion of the Taipei Times.