S Koreans protest over labor policies
DEMONSTRATIONS: Groups denounced government policies that they said would bring reductions in wages, job security and retirement benefits for state employees
South Korean police yesterday said that they detained 40 people when protests over government labor policies and the handling of a year-old ferry disaster spiraled into violence late on Friday.
Thousands of demonstrators, many of them carrying banners and wearing yellow jackets, the color identified with supporters of the families of the ferry disaster victims, occupied several downtown streets and clashed with police officers, who created tight perimeters with their buses and aggressively blocked marchers from reaching the presidential Blue House.
Several police officers and protesters were injured during the disturbance, said an official from the Korean National Police Agency, who did not want to be named, citing office rules. He did not provide a specific number.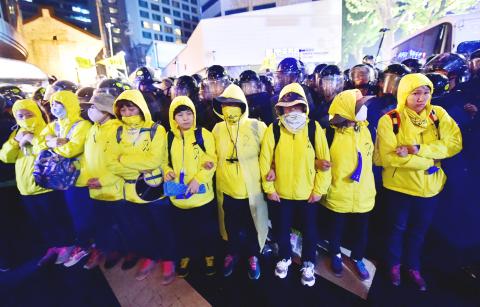 Relatives of South Korean Sewol ferry disaster victims yesterday stand in front of riot police in Seoul as they try to march toward the presidential Blue House during a rally demanding a fully independent inquiry into the incident.
Photo: AFP
Protesters attacked police buses with sticks and tried to move the vehicles by pulling ropes they tied near the wheels, and police responded by targeting them with water cannons and pepper spray. Many buses were vandalized by protesters who spray-painted anti-government slogans on them. Some buses were left with smashed windows and damaged tires, police officials said.
Most of the protesters were dispersed at about midnight, but some of them continued to stage sit-in protests in nearby streets yesterday morning.
South Korean labor groups have been denouncing a series of government policies that they believe will reduce wages, job security and retirement benefits for state employees.
Marches on Friday are rooted in labor movements worldwide. The demonstrations in Seoul were joined by supporters of the ferry victims' relatives, who want a more thorough investigation into the sinking. At an earlier demonstration on April 18, dozens of people were hurt and more than 70 police buses were destroyed in a violent clash between the police and demonstrators.
The ferry disaster continues to be a thorny issue for increasingly unpopular South Korean President Park Geun-hye, despite her bowing to relatives' demands to proceed with the difficult and potentially dangerous operation of salvaging the vessel. Relatives also want a new investigation to look into the government's responsibility for the disaster, which was blamed in part on official incompetence and corruption.
A total of 304 people, most of them students from a single high school, died when the ferry Sewol sank last year. Nine victims' bodies have not been found.
Comments will be moderated. Keep comments relevant to the article. Remarks containing abusive and obscene language, personal attacks of any kind or promotion will be removed and the user banned. Final decision will be at the discretion of the Taipei Times.