China to investigate state TV host for insulting Mao
DIVISIVE FIGURE: Bi Fujian is in hot water for satirizing the former leader, saying he led the people to misery. However, many seem to think he should not apologize
China's main state broadcaster, CCTV, will investigate one of its anchors after a video of him insulting the founder of modern China, Mao Zedong (毛澤東), went viral on social media sites.
Mao, who died in 1976, remains a divisive figure. His image adorns banknotes and his embalmed body attracts hundreds, if not thousands, of visitors a day to Beijing.
While the Chinese Communist Party (CCP) has acknowledged Mao made mistakes, there has yet to be an official accounting for the chaos of the Cultural Revolution or the millions of deaths from starvation during the 1958-1961 Great Leap Forward.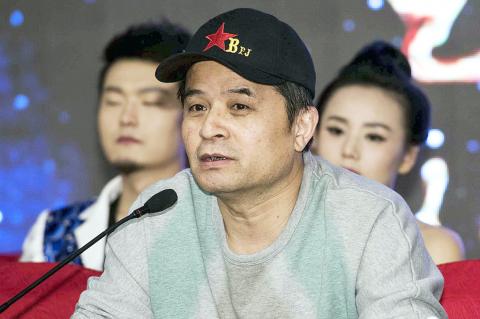 CCTV anchor Bi Fujian speaks during a news conference in Beijing on Nov. 21, 2013.
Photo: Reuters
In a brief statement released on its Web site late on Wednesday, CCTV said the remarks of its anchor, Bi Fujian (畢福劍), "had a serious social impact."
"We will seriously handle the matter in line with related regulations and based on careful investigation," it said without elaborating.
In the video, which is still circulating on social media sites, Bi sings parts of a Cultural Revolution-era opera called Taking Tiger Mountain by Strategy, and then inserts his own comments, including that Mao led the people to misery.
Mao has also become a potent symbol for leftists within the CCP who feel that three decades of market reform have gone too far, creating social inequalities like a yawning rich-poor gap and pervasive corruption.
However, the decision to investigate Bi has generated much anger on the Internet, with many people saying he should not be rebuked. One poll on a microblogging site showed that 80 percent of respondents thought Bi should not apologize.
"Criticizing Mao in private is something that can still be hyped up? It's been done in public not only overseas, but also in China," prominent liberal economist Mao Yushi (茅于軾) wrote on his microblog.
The Global Times said Bi, 56, was known for hosting a CCTV talent show. He has also hosted CCTV's Chinese New Year's special since 2011.
Comments will be moderated. Keep comments relevant to the article. Remarks containing abusive and obscene language, personal attacks of any kind or promotion will be removed and the user banned. Final decision will be at the discretion of the Taipei Times.