Heavy rainfall in Chile leaves two dead, 24 missing
The heaviest rains to hit Chile's northern desert regions in 20 years have left at least two people dead and 24 missing as the torrential downpours caused mudslides and rivers to breach their banks, leaving thousands of residents stranded.
The Chilean National Office of Emergency of the Chilean Ministry of the Interior, which is known by its Spanish acronym, ONEMI, reported early yesterday that nearly 61,000 people were without power and almost 50,000 lacked drinking water in the usually arid regions of Coquimbo, Atacama and Antofagasta.
Television images and photographs on social media Web sites such as Twitter showed muddy rivers rushing through city streets, bridges washed away, flooded buildings, including a hospital, and even some towns that had been partially wiped out.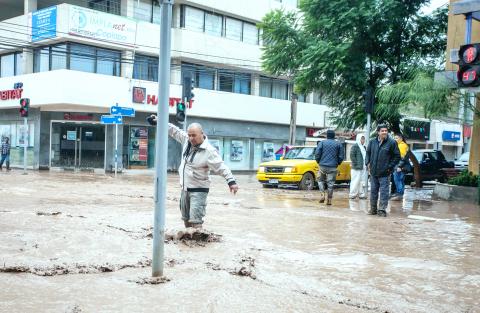 A man wades across a flooded street in the city of Copiapo, Chile, on Wednesday.
Photo: AFP
ONEMI said that one person in Antofagasta was electrocuted on the street, while a mudslide killed another person in Atacama. Another 24 people were missing.
Chilean President Michelle Bachelet traveled to affected areas to assess damage and help lead rescue efforts.
"We're doing everything humanly possible to get to where [those affected by the catastrophe] are as quickly as possible," Bachelet said.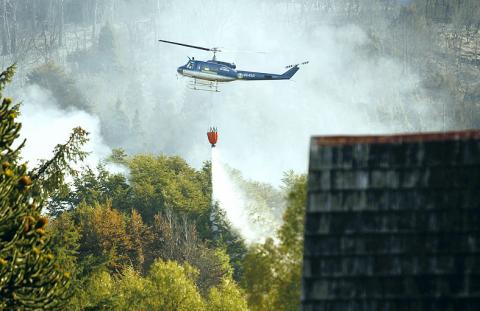 A Chilean helicopter drops water on a forest fire in Los Alerces National Park in Chubut Province, Argentina, near the border with Chile on Wednesday.
Photo: AFP
Chilean Minister of the Interior Rodrigo Penailillo on Wednesday said that a state of catastrophe had been declared and armed forces had been ordered to coordinate support operations and take control of public order in the worst affected areas.
The "very intense" rains were expected to continue for about another eight hours, he said.
Residents of several towns were asked to evacuate. Many roads were cut off and evacuations could only be done via air transport, Chilean Undersecretary of the Interior Mahmud Aleuy said.
The normally arid north is home to many of Chile's largest copper mines, which account for about a third of global supply.
The torrential downpours in the world's biggest copper producer have forced companies to suspend operations at several of the area's major mines, putting an estimated 1.6 million tonnes of capacity of the metal on hold.
Fiber optics had been cut across the northern region, which was affecting communications and could affect flights, LATAM Airlines Group's Chilean arm LAN said.
The sudden autumn downpour comes after an unusually hot, dry summer exacerbated an eight-year drought and left fields parched.
The dry conditions continue in the south of Chile, where firefighters are battling nearly 40 separate blazes burning in about 14,000 hectares, according to ONEMI.
The China Muerta national reserve and the Conguillio National Park, revered for its forests of thousand-year-old Araucarias, or monkey-puzzle trees, are among the areas affected by the flames.
Comments will be moderated. Keep comments relevant to the article. Remarks containing abusive and obscene language, personal attacks of any kind or promotion will be removed and the user banned. Final decision will be at the discretion of the Taipei Times.