Sirisena, Xi meet as ties face doubts in Sri Lanka
CAUTIOUS COLLOQUY: New Sri Lankan President Maithripala Sirisena's administration ordered reviews of all China-funded projects begun by his predecessor
Sri Lankan President Maithripala Sirisena yesterday held talks with Chinese President Xi Jinping (習近平) amid a push to recalibrate his predecessor's strongly pro-China policies and a review of major Chinese projects in the island nation.
Sirisena and Xi reaffirmed long-standing ties between their nations at the start of their meeting at China's Great Hall of the People in Beijing. The talks opened Sirisena's first visit to the Asian giant since taking office in January and follow his recent trip to neighbor and Chinese rival, India.
In opening remarks, Xi said China considers Sri Lanka a strategic partner and wants to "again promote and elevate the China-Sri Lanka relationship to fulfill an important purpose."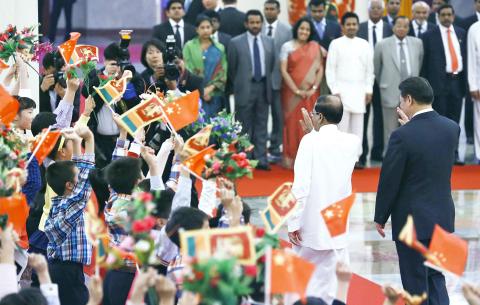 Chinese President Xi Jinping, right, and Sri Lankan President Maithripala Sirisena, sceond right, wave to children waving Chinese and Sri Lankan flags during a welcoming ceremony for Sirisena at China's Great Hall of the People in Beijing yesterday.
Photo: EPA
"China has always placed Sri Lanka in an important diplomatic position in region," Xi said before reporters were ushered from the room.
The two also discussed a US$1.5 billion China-funded port city project in Colombo which Sirisena's government suspended pending scrutiny of environment impacts and alleged corruption, Chinese Assistant Minister of Foreign Affairs Liu Jianchao (劉建超) told reporters after the meeting.
Both sides said they continued to back the project, but any specific changes to it would have to be worked out by the companies involved, Liu said.
Sirisena's administration has ordered reviews of all China-funded projects.
Liu said Xi advocated further Chinese investment in Sri Lanka, including projects funded by Beijing's proposed Asian Infrastructure Investment Bank.
The two presided over the signing of agreements on health care, construction and urban development.
Sirisena's surprise election presented a diplomatic challenge to Beijing as it seeks to expand its political and economic influence in the Indian Ocean region.
China enjoyed close ties with his former Sri Lankan president Mahinda Rajapaksa, under whom a raft of Chinese-backed projects sailed through the approval process with few questions.
China was a trusted supplier of weapons in Rajapaksa's crushing of ethnic Tamil separatists and backed Sri Lanka against allegations at the UN of human rights abuses in the civil war.
In his visit last year, Xi won support from Sri Lanka and Maldives for a new maritime "Silk Road," seen as a way of encircling India and controlling port access along sea lanes linking the energy-rich Persian Gulf and economic centers in eastern China.
In contrast, Sirisena wants to balance Sri Lanka's China ties against those with India and chose New Delhi for his first official visit.
This month, Indian Prime Minister Narendra Modi became the first Indian leader to visit Sri Lanka in 28 years.
The massive Colombo port project, backed by the major Chinese state-owned company China Communications Construction Co, has become a particular concern for India. That is largely due to recent visits to Sri Lanka by Chinese People's Liberation Army navy ships and submarines, and the possibility that China could own outright part of the artificial land on which the development is to be built.
Comments will be moderated. Keep comments relevant to the article. Remarks containing abusive and obscene language, personal attacks of any kind or promotion will be removed and the user banned. Final decision will be at the discretion of the Taipei Times.