'Petulant' US official cautioned by Venezuela
CARACAS: Venezuela's allies offered support amid bolstered US sanctions, while a veteran diplomat sparked fury with remarks about sniping 'empty' opposition heads
Venezuela's top diplomat called a senior US official "petulant" and ill-mannered on Wednesday in response to her contention that sanctions were intended to change Venezuela's government, not topple it, while a former minister of foreign affairs was condemned for insensitive remarks.
Venezuelan Minister of Foreign Affairs Delcy Rodriguez was responding to US Department of State Assistant Secretary of State for Western Hemisphere Affairs Roberta Jacobson's comments on a US declaration that Venezuela is a security threat and the US' sanctioning of seven Venezuelan officials earlier this week.
"In a rude and petulant manner, Mrs Jacobson tells us what to do," Rodriguez told local TV. "I know her very well because I have seen her personally, her way of walking, chewing. You need manners to deal with people and with countries."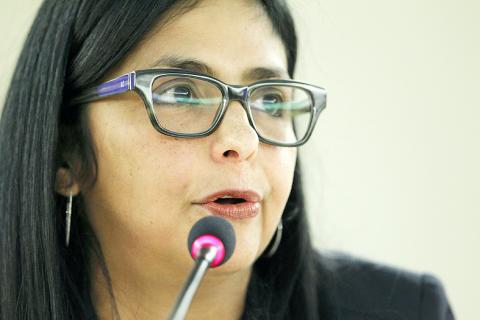 Delcy Rodriguez, Venezuelan minister of foreign affairs.
Photo: Reuters
The moves by US President Barack Obama's administration have infuriated Venezuelan President Nicolas Maduro's government, which has accused Washington of planning military attacks and wider Cuba-style trade sanctions.
Venezuelan state TV has been playing old footage of the US invasions of Grenada and Panama.
Maduro has also asked the legislature to grant him six-month powers of decree amid what he calls the "imperialist" threat, a move that Maduro's foes condemn as a power grab and attempt to distract Venezuelans from shortages and recession.
"The goal of these sanctions is to persuade the government of Venezuela to change its ways, not to remove that government," Jacobson tweeted.
Washington's measures have also hobbled Venezuela's opposition which, while agreeing with US accusations of rights abuses and corruption, do not want to be associated with outside interference.
Venezuela's allies are supportive, with Cuba mocking the US moves despite its own recent rapprochement with Washington.
"We will respond to this grotesque, illegal, shameless, unheard of and unjustified meddling by the US," Ecuadorean President Rafael Correa said, announcing a meeting on the issue next week of foreign ministers of the Union of South American Nations.
Separately in Venezuela, mocking remarks by the nation's envoy to the Organization of American States (OAS) suggesting that a bullet would pass easily through the "empty" head of an opposition sympathizer have set off a social media firestorm.
Veteran diplomat Roy Chaderton made the controversial comment on state TV earlier this week when discussing how projectiles did not distinguish among political factions.
"Snipers aim for heads ... a squalid [opposition] head cannot be distinguished from a 'Chavista' head — except in its content," Chaderton said, using terms that became common during former Venezuelan president Hugo Chavez's time in office from 1999 to 2013.
"The sound produced in a squalid head is like a click because the skull is empty. So it goes through fast, but you only know that after the projectile passes," he added on an irreverent, late-night chat show.
Though strong and often offensive comments have become commonplace on both sides of Venezuela's political divide in recent years, Chaderton's remarks touched a raw nerve given recent deaths around political protests.
A police officer reportedly shot dead a teenager near antigovernment protests last month, and there were 43 fatalities last year in violence sparked by demonstrators against Maduro.
The deaths last year included government supporters, opposition activists and security forces.
Venezuela's Twitter-sphere was abuzz with calls from opposition supporters for Chaderton to apologize or resign.
"What on earth is Chaderton talking about?" tweeted opposition mayor David Smolansky. "The OAS should pronounce on this immediately and suspend Chaderton."
Alongside political violence, Venezuela has the world's second-worst homicide rate, according to the UN.
Comments will be moderated. Keep comments relevant to the article. Remarks containing abusive and obscene language, personal attacks of any kind or promotion will be removed and the user banned. Final decision will be at the discretion of the Taipei Times.