Police detain Myanmar protesters
Police cracked down on student protesters opposing Myanmar's new education law yesterday, roughly grabbing demonstrators and loading them onto trucks in the third such clampdown in as many days.
A photographer and other witnesses in Letpadan, 140km north of the country's main city Yangon, said the incident happened when about 20 students broke off from a larger group of protesters gathering at a nearby monastery.
Police swooped, dragging five people, including a young woman, into trucks, they said.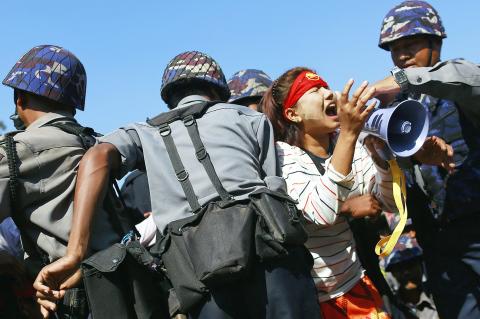 Police officers restrain student Ei Thinzar Maung, second right, during a protest against an education bill in Letpadan, Myanmar, yesterday.
Photo: Reuters
The demonstrators — among hundreds protesting in different cities for more than a month — want the government to scrap the education law that they say curbs academic freedom.
Eight demonstrators were released earlier yesterday after they were detained a day earlier in Yangon when police charged at them with batons and dragged them into trucks.
Police launched a similar crackdown on Wednesday against factory workers rallying for higher pay and better working conditions just outside Yangon.
Since Myanmar started moving from a half-century of brutal military rule toward democracy four years ago, the government has found itself grappling with the consequences of newfound freedoms of expression.
The groups at Letpadan and at Sule Pagoda want the government to scrap a law passed by parliament in September last year that puts all decisions about education policy and curriculum in the hands of a group largely made up of government ministers. Students say the law undermines the autonomy of universities struggling to recover after clampdowns on academic independence during the military's rule.
Comments will be moderated. Keep comments relevant to the article. Remarks containing abusive and obscene language, personal attacks of any kind or promotion will be removed and the user banned. Final decision will be at the discretion of the Taipei Times.