US considering arms for Ukraine
UP FOR DISCUSSION: The failure of sanctions to deter Moscow from supplying weapons has led the US to reassess its policy on lethal assistance, US officials said
With Russian-backed separatists pressing their attacks in Ukraine, NATO Supreme Allied Commander General Philip Breedlove now supports providing defensive weapons and equipment to Kiev's beleaguered forces and an array of administration and military officials appear to be edging toward that position, US officials said on Sunday.
US President Barack Obama has made no decisions on providing lethal assistance. However, after the series of striking reversals that Ukrainian forces have suffered in recent weeks, the Obama administration is taking a fresh look at the question of military assistance.
US Secretary of State John Kerry, who plans to visit Kiev on Thursday, is open to new discussions about providing lethal assistance, as is US Chairman of the Joint Chiefs of Staff General Martin Dempsey, officials said. US Secretary of Defense Chuck Hagel backs sending defensive weapons to the Ukrainian forces.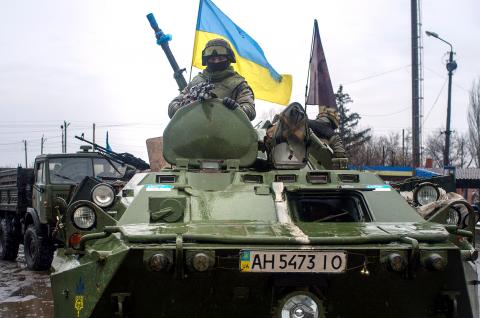 Ukrainian soldiers ride armored vehicles to Debaltseve in eastern Ukraine's Donetsk region, yesterday.
Photo: AFP
In recent months, US National Security Adviser Susan Rice has resisted proposals to provide lethal assistance, several officials said. However, one official who is familiar with her views said that Rice was now prepared to reconsider the issue.
Fearing that the provision of defensive weapons might tempt Russian President Vladimir Putin to raise the stakes, the White House has limited US aid to nonlethal items, including body armor, night-vision goggles, first aid kits and engineering equipment.
However, the failure of economic sanctions to dissuade Russia from sending heavy weapons and military personnel to eastern Ukraine is pushing the issue of defensive weapons back into discussion.
"Although our focus remains on pursuing a solution through diplomatic means, we are always evaluating other options that will help create space for a negotiated solution to the crisis," US National Security Council spokeswoman Bernadette Meehan said.
Fueling the broader debate over policy is an independent report to be issued yesterday by eight former senior US officials, in which they urge the US to send US$3 billion in defensive arms and equipment to Ukraine, including anti-armor missiles, reconnaissance drones, armored Humvees and radars that could determine the location of enemy rocket and artillery fire.
Former Pentagon policy chief Michele Flournoy — who is a leading candidate for US secretary of defense if former US secretary of state Hillary Rodham Clinton is elected US president, assisted in preparing the report. Other contributers include former NATO Supreme Commander Admiral James Stavridis, and former US ambassador to NATO Ivo Daalder.
"The West needs to bolster deterrence in Ukraine by raising the risks and costs to Russia of any renewed major offensive," the report said. "That requires providing direct military assistance — in far larger amounts than provided to date and including lethal defensive arms."
In his State of the Union address last month, Obama noted that the economic sanctions imposed by the US and its allies had hurt the Russian economy.
However, US officials acknowledge that Russia has repeatedly violated an agreement reached in Minsk in September last year. The agreement called for an immediate ceasefire in Ukraine, the removal of foreign forces and the establishment of monitoring arrangements to ensure that the border between Ukraine and Russia would be respected.
In recent weeks, Russia has shipped a large number of heavy weapons to support the separatists' offensive in eastern Ukraine, including T-80 and T-72 tanks, multiple-launch rocket systems, artillery and armored personnel carriers, Western officials said.
Some of the weapons are too sophisticated to be used by hastily trained separatists, said a Western official who, like others discussing the issue, declined to be identified because he was discussing intelligence reports and internal policy debates. NATO officials said that about 1,000 Russian military and intelligence personnel are supporting the separatist offensive while Ukrainian officials have said the number is much higher.
Supported by the Russians, the separatists have captured the Donetsk airport and are pressing to take Debaltseve — a town situated beside a critical rail junction.
In all, the separatists have captured 500km2 of additional territory in the past four months, according to NATO. The assessment of some senior Western officials is that the Kremlin's goal is to replace the Minsk agreement with an accord that would be more favorable to the Kremlin's interests and would leave the separatists with more infrastructure and potentially a more economically viable enclave.
The report was issued jointly by the Atlantic Council, the Brookings Institution and the Chicago Council on Global Affairs.
Comments will be moderated. Keep comments relevant to the article. Remarks containing abusive and obscene language, personal attacks of any kind or promotion will be removed and the user banned. Final decision will be at the discretion of the Taipei Times.