Shanghai mayor downplays crush
The Shanghai New Year's Eve crush that left 36 dead showed "critical neglect," the mayor of the Chinese commercial hub said yesterday, while insisting that those responsible had been held accountable.
New Year revelers, many of them young women, were trampled after flocking to the historic waterfront area, known as the Bund, because of severe overcrowding and the lack of adequate safety measures.
"The New Year's Eve incident has exposed critical neglect and hazards in Shanghai's safety infrastructure," Shanghai Mayor Yang Xiong (楊雄) told the annual meeting of the Shanghai People's Congress, the local legislature.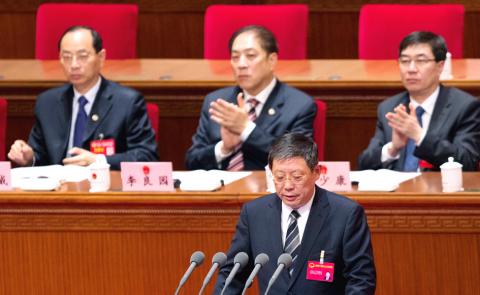 Shanghai Mayor Yang Xiong, front, yesterday delivers a speech at the Shanghai Municipal People's Congress.
Photo: AFP
"Those responsible have been held accountable to the fullest extent of the law," he said, reading from a prepared text. "We share people's grief and acknowledge guilt and responsibility."
The city on Wednesday said it had punished 11 officials, removing four from their posts, most from Huangpu district where the accident took place. There has been no announcement yet of intention to seek criminal punishment through the courts.
Relatives of the dead have called for higher, city-level officials to take the blame amid speculation the mayor himself could be implicated.
Public outrage has risen after media reports, which were later confirmed, said that several Huangpu district officials went for a free meal at a high-class restaurant shortly before the stampede and near where it took place.
The mayor defended an official investigative report on the tragedy which described the stampede as an "incident," a downgrading which implies milder punishment and less compensation for those affected than classification as an "accident."
"We have produced an objective and impartial report according to the law," he said.
The families of the deceased will each receive 800,000 yuan (US$128,329), which they have criticized as being too low while calling for a greater accounting by the government instead of just compensation.
Yang also outlined major objectives for the coming year.
Shanghai will expand some practices from its free-trade zone to the rest of the city, he said, following widespread disappointment among foreign companies over the pace of reforms in China's first free-trade area.
The city will also prepare for a new Disney theme park, including finishing a metro line linking to it, Yang said. A state media report last month said that the park is struggling to meet its deadline this year for opening.
Comments will be moderated. Keep comments relevant to the article. Remarks containing abusive and obscene language, personal attacks of any kind or promotion will be removed and the user banned. Final decision will be at the discretion of the Taipei Times.