New Jersey waterfront apartments destroyed in fire
A fire destroyed much of an apartment complex near the Hudson River waterfront in northern New Jersey, displacing residents of the 408 units.
The Edgewater Police Department and a Bergen County arson squad are investigating the blaze that began on Wednesday afternoon at the Avalon at Edgewater, a two-building development across the river from upper Manhattan. The fire spread quickly, in part because of the complex's wood construction, Edgewater Fire Chief Thomas Jacobson said at a press conference on Thursday morning.
"A lot of it has collapsed," Jacobson said. "If it was made of cinder block and concrete, we wouldn't have this problem."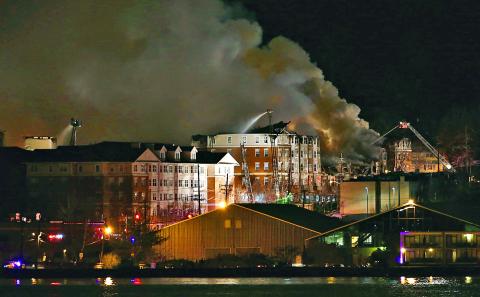 Smoke billows from a fire burning in an apartment complex in Edgewater, New Jersey, on Thursday as it is seen in a picture taken from Manhattan, New York.
Photo: EPA
No one was killed or injured and no one was missing, Jacobson said.
Evacuated residents were offered temporary housing at local hotels, according to the borough of Edgewater's Facebook page.
AvalonBay Communities Inc, which owns the complex, said in a statement that one of buildings, with 257 apartments, is uninhabitable, while the company is evaluating the extent of damage to the second structure.
Losses from the fire would be "substantially covered" by insurance and would not have a material effect on the company's finances, the firm said.
AvalonBay is working with the Red Cross and local authorities to assist displaced residents, chief operating officer Sean Breslin said in the statement. The borough declared a state of emergency on Thursday, closing schools and restricting traffic on some roads, according to its Twitter page.
Embers beneath the rubble of the complex were still smoldering on Thursday morning and firefighters planned to douse them later in the day, Jacobson said.
"We're going to get a crane in here and we're going to start picking apart the building," he said.
The complex was built using wood-frame construction, "a standard, common and safe method" for multi-family housing, AvalonBay chief construction officer Michael Feigin said in an e-mailed statement on Thursday.
"The community was built in accordance with the fire and safety codes applicable at the time," he said. "The purpose of those codes is not to prevent the building from burning down, but rather to ensure that there is sufficient time and opportunity for all occupants to exit safely in the event of a fire."
AvalonBay spent almost US$80 million to build the complex, which was completed in 2002, according to regulatory filings by the Arlington, Virginia-based company.
It was 97 percent occupied in 2013, AvalonBay said in its most recent annual report. Monthly rents averaged US$2,627.
Amenities at the gated luxury complex included a heated outdoor swimming pool, a resident clubhouse and gas fireplaces in some apartments, according to the property's Web site.
It was the second fire at the site. In 2000, the complex, then under construction, was leveled.
Jacobson said nine homes in the area were also destroyed in that blaze.
AvalonBay, the biggest publicly traded US apartment landlord after Equity Residential, owns or has a stake in communities in 11 states and the District of Columbia, with a total of 82,333 units.
Comments will be moderated. Keep comments relevant to the article. Remarks containing abusive and obscene language, personal attacks of any kind or promotion will be removed and the user banned. Final decision will be at the discretion of the Taipei Times.