Houthi challenges Yemeni president
IRANIAN AID? US officials said Iran has armed the rebel group, who are said to be at odds with Abdrabuh Mansur Hadi over a draft constitution aimed at ending conflict
Armed fighters from Yemen's powerful Houthi movement yesterday stood guard outside the private residence of Yemeni President Abd-Rabbu Mansour Hadi, whose home is normally protected by presidential security officers, witnesses said.
Sentry posts were empty and there was no sign of the presidential guard at the compound, scene of clashes between Houthis and guards on Tuesday, the witnesses said.
The Houthi fighters were accompanied by an armored vehicle.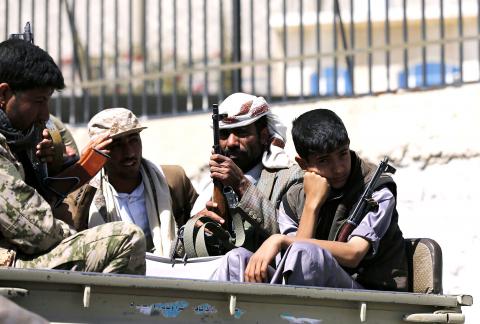 Houthi fighters sit in a truck outside a presidential guards barracks they took over on a mountain overlooking the presidential palace in Sana'a, Yemen, on Tuesday.
Mohammed al-Bukhaiti, a member of the Houthi politburo, said: "President Hadi is still in his home. There is no problem, he can leave."
Houthi fighters battled guards at the Hadi's home and entered his palace on Tuesday, raising the stakes in a drive for more political power that has enfeebled state authority and thrown the Arab state deeper into turmoil.
In a televised speech hours after his fighters' display of force, Houthi leader Abdel-Malek al-Houthi warned Hadi that he had to implement a power-sharing deal struck when his men seized the capital in September last year.
"All the options are open and without exception and the ceiling is very, very high. And this is why, I here advise the president: Implement this deal. It is for your benefit and for the benefit of your people," he said on live television.
Houthi prizes the accord, as it grants his Shiite Muslim group participation in all military and civilian state bodies.
"We ... will not hesitate to impose any necessary measures to implement the peace and partnership agreement," Houthi said.
His group is widely seen as an ally of Iran in its struggle with Saudi Arabia for regional influence.
Hadi, an ally of the West and staunch supporter of US drone attacks on al-Qaeda fighters in Yemen, has been increasingly at odds with Houthi over a draft constitution intended to help end decades of conflict and underdevelopment.
The emergence of the Houthis as Yemen's de facto top power last year has scrambled alliances and stirred tensions across Yemen's political spectrum, raising fears of deeper instability in a nation that has one of al-Qaeda's most active branches.
Persian Gulf Arab foreign ministers were due to discuss the crisis in Yemen at an emergency meeting in the Saudi capital Riyadh yesterday.
UN Secretary-General Ban Ki-moon has condemned the violence and called for order in the nation.
The US remains "firmly committed" to supporting Hadi and his government, and is calling for an "immediate cessation of hostilities," a US Department of State official said.
The US officials said Iran was backing the rebellion with financial and political support. Some officials said that shipments of weapons from Iran to the Yemeni Houthis had been tracked by foreign governments.
Washington has been concerned about the turmoil in part because it relies on the Yemeni government for help in counterterrorism operations against al-Qaeda in the Arabian Peninsula, which claimed responsibility for the Jan. 7 Charlie Hebdo attacks in Paris.
Yemeni Minister of Information Nadia al-Saqqaf said the clashes at Hadi's residence amounted to an attempt to topple Yemen's government, a charge denied by a senior official of the Houthi group.
The clashes followed some of the worst fighting in Sana'a in years on Monday. Guards loyal to Hadi fought artillery battles near the presidential palace with the Houthi.
"Yemeni president under attack by armed militias seeking the overthrow of the ruling system," al-Saqqaf said on Twitter on Tuesday.
Residents said later that the fighting had died down. A Yemeni government official said two people had been killed.
The minister did not identify the militias, but she said they were firing from nearby houses. Hadi lives in his private home and not in the palace.
Al-Bukhaiti said his group had no plans to target Hadi.
"Ansarullah has no intention of targeting president Hadi or his house," al-Bukhaiti told reporters, using the group's official name.
He said what happened at Hadi's house was the result of a "provocation" by Hadi's security and that the incident has been contained.
Comments will be moderated. Keep comments relevant to the article. Remarks containing abusive and obscene language, personal attacks of any kind or promotion will be removed and the user banned. Final decision will be at the discretion of the Taipei Times.