Ex-US ambassador to Latin America Robert White dies
On Dec. 1, 1980, two churchwomen, Jean Donovan and Sister Dorothy Kazel, spent the night at the US Embassy in San Salvador as guests of former US ambassador to El Salvador Robert White and his wife. The next day, the two women and two other nuns, all campaigners for human rights, were abducted, raped and murdered.
White concluded that El Salvadoran government death squads had been complicit in the crimes and conveyed those suspicions to former US president Jimmy Carter's administration. The US, however, was supporting El Salvador's military government in its struggle against left-wing revolutionaries, and after former US president Ronald Reagan took office, White, who had been appointed by Carter, was recalled by then-US secretary of state Alexander Haig, and forced out of the US foreign service.
His suspicions about the deaths were later confirmed by the conviction of five Salvadorean National Guardsmen and by declassified US Department of State documents accusing the Salvadorean military of a cover-up.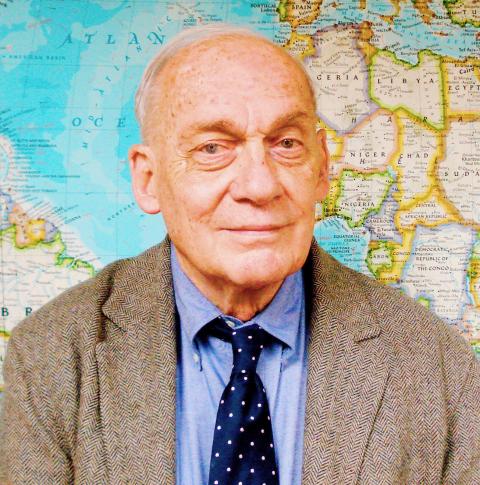 Former US ambassador Robert White is pictured in an undated handout photo.
Photo: Reuters
"I regard it as an honor to join a small group of officers who have gone out of the service because they refused to betray their principles," White said at the time.
White died on Tuesday at a hospice in Arlington, Virginia. He was 88. The cause was cancer, his daughter said.
Serving every president since former US president Dwight Eisenhower as a career diplomat rather than a political appointee, White was distinguished by his dispassionate, boots-on-the-ground analysis and his blunt conclusions.
He once described the right-wing Salvadorean Major Roberto D'Aubuisson as a "pathological killer." In a standoff that White had with then-US secretary of state Henry Kissinger, Kissinger blinked, revoking a reprimand he had ordered after White, at a meeting of the Organization of American States in Chile, delivered an unalloyed critique of the host government's human-rights infractions.
"I was fired by the Nixon White House for opposing politicization of the Peace Corps, reprimanded by Henry Kissinger for speaking out on human rights, and finally, definitely dismissed by Alexander Haig for opposing a military solution in El Salvador," White recalled.
A cable sent by White from Paraguay in 1978 and declassified in 2001 suggested that Latin American officers involved in a joint effort by right-wing governments to crush leftist opposition had used a U.S. communications network to share intelligence. In El Salvador, he said, US support for the military government had been misplaced.
"We took the concept of national security and wrenched it out of context to the point where it bore no relation to reality," he said last year in an interview for Retro Report on nytimes.com. "How can a country the size of Massachusetts, where you can see the entire country from 9,000 feet [914m] from a helicopter — how can a homegrown revolution in that country threaten the security of the United States?"
In 1980, the four churchwomen were murdered eight months after the assassination of Salvadorean Archbishop Oscar Arnulfo Romero, a human rights advocate, as he celebrated Mass. White, who witnessed their exhumation, was asked why the women were singled out.
"In the eyes of the military," he replied, "identification with the poor was the same as identification with revolution." But this time, he was quoted as saying as he stood over their grave site, "The bastards won't get away with it."
He later testified in a suit against two retired Salvadoran generals living in Florida who were accused of covering up the deaths of the four women.
Comments will be moderated. Keep comments relevant to the article. Remarks containing abusive and obscene language, personal attacks of any kind or promotion will be removed and the user banned. Final decision will be at the discretion of the Taipei Times.