Viennese stage rally after cafe ejects lesbian couple
'IT IS TIME': Thousands converged on an iconic cafe in the Austrian capital to demand fair treatment after they said a lesbian couple faced discrimination
Several thousand people staged a noisy and colorful protest late on Friday outside one of Vienna's oldest cafes after a lesbian couple said they were thrown out for kissing.
It comes less than a year after Austria's bearded transvestite Conchita Wurst — with her long glossy mane, heavy makeup and stilettos — helped put Vienna on the gay map by winning the Eurovision Song Contest.
Protest organizers said that as many as 5,000 people took part in the demonstration outside the 112-year-old Cafe Prueckel, where the couple reportedly were ejected last week for what they called a "greeting kiss."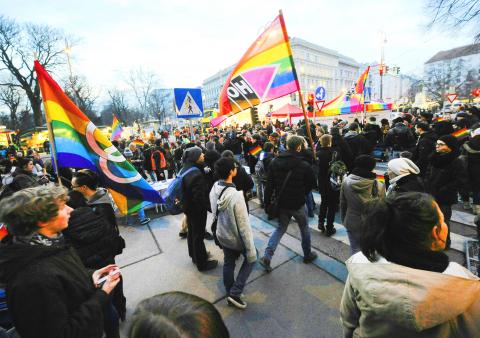 Thousands of people rally against the actions of Vienna's Cafe Prueckel on Friday, where a lesbian couple were reportedly expelled in the previous week after what they called a "greeting kiss."
Photo: EPA
"We are here to make a stand against intolerance and homophobia," said Philipp Pertl, a member of lesbian, gay, bisexual and transgender (LGBT) rights group Rainbow Scouting Austria, while wearing a hat made of multicolored balloons. "The law needs to change. It cannot be that gay and lesbians get thrown out of a cafe or restaurant for kissing."
The alleged incident on Jan. 6 involved Eva Prewein, 19, and Anastasia Lopez, 26, who after kissing in the Cafe Prueckel were refused service for more than two hours. When they kicked up a fuss, they were asked to leave.
Lopez told Austrian newspapers that Christl Sedlar, manager of the cafe on Vienna's famous Ringstrasse boulevard, informed the outraged pair that "diversity such as this belongs in a brothel, not in a traditional coffee house."
"We do not need any canoodling. Why was it absolutely necessary for the couple to show that they were an item," Sedlar told the Kurier daily, saying that it was the kiss, not their sexual identities, that offended.
However, that was not the end of it. The two women turned to Facebook and several LGBT groups to organize Friday's demonstration, and the story received widespread media coverage in Austria and beyond.
On Thursday, as attention and the number of people who said they would take part in the protest snowballed, Sedlar issued an apology of sorts, saying that she was sorry that her reaction was "excessive."
"However, as manager of the venerable Prueckel, I still see it as my job to ensure that recognized standards of behavior in society are adhered to by all guests," she said.
Vienna's cafe culture dates back to the end of the 17th century — legend has it that the retreating Turkish army left coffee beans behind in 1683 — and is included in UNESCO's list of intangible cultural assets.
Their heyday was in the late 19th and early 20th centuries, when they were a haven for Europe's cultural and intellectual elite, including Sigmund Freud and Gustav Mahler.
However, this latest incident showed that the step back in time to a bygone golden era so beloved of tourists can sometimes clash with contemporary real life. Many gay people say that below the surface, Austria is not that tolerant.
"I cannot hold hands with my girlfriend in the street in the area where I live," one protester, giving her name only as Katherina, told reporters at Friday's demonstration.
However, Vienna's tourist board is pulling out all the stops — like other European destinations — to attract gay tourists. In 2013, about 80,000 people voted Vienna as their favorite cultural destination on the Web site GayCities.com.
Although it might be a little less racy than other cities, there is also "fun to be had after dark, with plenty of fetish parties, saunas and gay clubs to keep even the most energetic boy or girl happy," the Web site said.
"We want to make a stand for an open society for all kinds of people however they decide to lead their lives," protester Karina Tatzer, 33, said. "There is no equal treatment and it really is time."
Comments will be moderated. Keep comments relevant to the article. Remarks containing abusive and obscene language, personal attacks of any kind or promotion will be removed and the user banned. Final decision will be at the discretion of the Taipei Times.