Pakistani children brave fears to go back to school
COURAGE UNDER FIRE: Nearly a month after the Taliban killed 150 people at a school, students are returning to class, with many traumatized, but refusing to bow to fear
Child survivors of Pakistan's worst terrorist attack yesterday returned to the school where Taliban militants massacred their classmates on Dec. 16 last year, with both the students and their parents expressing a mixture of defiance and apprehension.
The attack on the military-run Army Public School in Peshawar by a group of armed extremists and suspected suicide bombers claimed the lives of 150 people, mostly children, prompting a bout of soul-searching in a nation accustomed to high levels of extremism.
Across Pakistan, many schools remained shut for an extended winter break as authorities beefed up security measures. For 16-year-old Shahrukh Khan, who was shot in both legs while playing dead in his school's auditorium, going back was traumatic.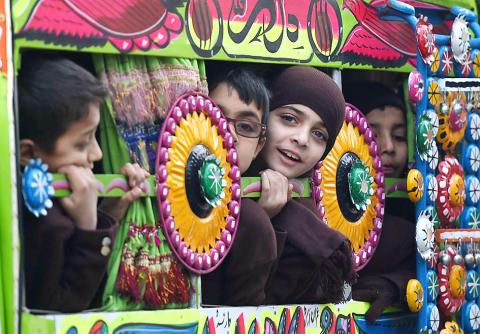 Children travel to school in the Pakistani city of Peshawar which yesterday reopened its schools for the first time since 150 people were massacred at a school last year.
Photo: AFP
"I have lost 30 of my friends. How I will sit in the empty class? How I will look to their empty benches?" he said before the school reopened. "My heart has been broken. All the class fellows I had have died; now my heart does not want to attend school."
At least 20 soldiers were seen at the main entry point of the Army Public School, with an airport-style security gate installed at the front. Elevated boundary walls with steel-wire fencing have been put in place in some schools around Peshawar and nationwide, as staff rang bells to signal the start of the day.
Pakistani Chief of Army Staff General Raheel Sharif made an unannounced visit with his wife, greeting students with handshakes and hugs.
Parents spoke of having to sit down with their children and mentally prepare them to return to the school, which has undergone a complete renovation to remove all traces of the bloody attack.
"He was terrified, but we talked him up; we cannot keep him imprisoned between four walls and we must stand against militancy," Muhammad Zahoor said as he walked his son to the school.
"I want to go to school to see my friends. I will join the army after my schooling and will take revenge," said his son, Muhammad Zaid.
Of the 150 victims killed in the attack, 134 were children. Survivors recounted Taliban gunmen hunting students and teachers, sometimes pretending they would be released, before lining them up and executing them in front of their peers.
Like Muhammad Zaid, many struck a defiant note.
"I am not scared: No force can stop me from going to attend my school. I will go and will tell the attackers: 'We are not afraid of you,'" said 16-year-old Zahid Ayub, who was wounded in the attack.
Pakistan has strengthened its offensive against the Taliban since the Peshawar attack, ending its six-year-old moratorium on the death penalty in terror cases last month in the wake of the massacre.
On Sunday, Pakistan's intelligence chief met Afghan President Ashraf Ghani in Kabul to discuss ways to boost coordination in fighting militant attacks in the region, an official said yesterday.
The visit was the third that Pakistani Inter-Services Intelligence chief Razwan Akhtar has made to the country recently, hinting at new cooperation between two sides that have long accused each other of harboring insurgents.
In the latest meeting, the sides agreed to coordinate against militant groups that fight against each government and exploit the porous border to flee military crackdowns.
Islamabad wants Kabul's help in stopping the Pakistani Taliban from sheltering in Afghan territory, while Kabul hopes its neighbor will use its influence to bring exiled Afghan Taliban leaders reportedly hiding in Pakistan to the negotiation table.
Additional reporting by Reuters
Comments will be moderated. Keep comments relevant to the article. Remarks containing abusive and obscene language, personal attacks of any kind or promotion will be removed and the user banned. Final decision will be at the discretion of the Taipei Times.