France reels after dramatic week
ATTACKS: The French prime minister said there had been 'clear failings' in intelligence, as three gunmen who were killed after a standoff with police were known to authoritie
French forces killed the two brothers behind the massacre at Charlie Hebdo and an Islamist ally on Friday after three blood-soaked days that left 17 other people dead and shook the nation to its core.
Police were still hunting for another suspect, the girlfriend of one of the men, early yesterday, hours after the fiery showdown with the gunmen who had kept France on edge since killing 12 people on Wednesday at the offices of the satirical weekly publication.
The heavily armed brothers were cornered in a small town northeast of Paris while a third man took terrified shoppers hostage in a Jewish supermarket, where four died and seven were hurt, including three police officers.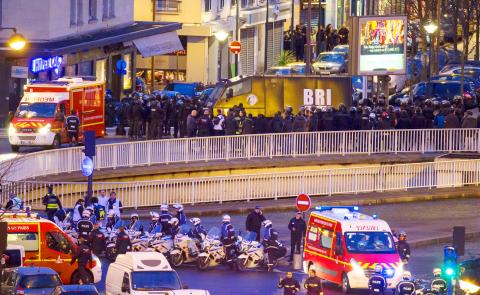 Police on Friday gather during an assault on a kosher supermarket at Porte de Vincennes in eastern Paris after a gunman opened fire and took hostages.
Photo: EPA
Explosions rang out at sunset at the two hostage sites as police moved in.
As France's bloodiest week in decades drew to a close, the mood began to turn to one of grim national reflection.
Questions were also mounting over how the three men — brothers Cherif and Said Kouachi, and supermarket gunman Amedy Coulibaly — had slipped through the security net after it emerged that all three were known to intelligence agencies.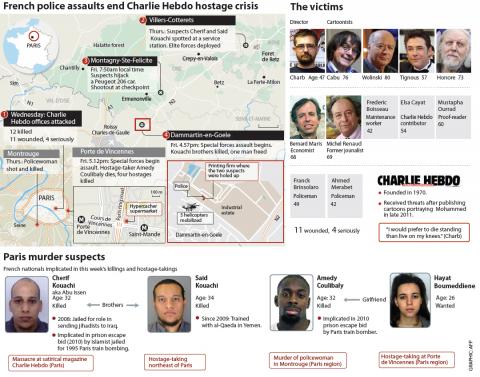 Graphic: AFP
Coulibaly's girlfriend Hayat Boumeddiene, who was wanted by police in connection with the killing on Thursday of a policewoman, was still on the loose.
With fears spreading in the wake of the attack, the US warned of a global threat, telling its citizens to beware of "terrorist actions and violence" all over the world.
The Kouachi brothers were cornered in a printing business in Dammartin-en-Goele outside Paris on Friday after a firefight with police that Paris prosecutor Francois Molins said left Said with a minor neck wound.
The brothers took the manager hostage, later releasing him after he helped Said with his wound, while a second man hid beneath a sink upstairs, Molins said.
The gunmen had a hefty cache of arms, including Molotov cocktails and a loaded rocket-launcher.
As French elite forces moved into place around the building, with snipers deployed on roofs and helicopters buzzing overhead, a fresh drama was unfolding in eastern Paris with a hail of gunfire around lunchtime.
There, Coulibaly stormed a Jewish supermarket hours before the Sabbath, killing four shoppers and taking others hostage.
However, up to five people — including a three-year-old boy — survived hidden inside a refrigerator for five hours.
Police swarmed to the Vincennes area, ordering terrified residents to stay indoors.
As the sun set shortly after 5pm, the two Islamist Charlie Hebdo gunmen charged out of the building with guns blazing before being cut down.
Shortly afterward, security forces moved in on the supermarket, where Coulibaly had just knelt to do his evening prayer when the special forces struck.
BFMTV revealed police were able to exploit a lapse in his defenses as he had not hung up his phone after speaking to one of their reporters.
A security source told AFP he had also called friends from the scene urging them to stage further attacks.
Meanwhile, questions mounted as to how the three men could have slipped through the security net.
As the drama reached its climax, links emerged showing the brothers and Coulibaly were close allies and had worked together.
Molins said Coulibaly had "threatened to kill all the hostages" if police moved in on the Kouachi brothers, and had said the supermarket was booby-trapped.
All three had a radical past and were known to French intelligence.
Cherif Kouachi, 32, was a known jihadist who was convicted in 2008 for involvement in a network sending fighters to Iraq.
His brother Said, 34, was known to have traveled to Yemen in 2011, where he received weapons training.
It also emerged that the brothers had been on a US terror watch list "for years."
Cherif told French TV he was acting on behalf of the Yemen-based al-Qaeda in the Arabian Peninsula (AQAP) while Coulibaly said he was a member of the Islamic State (IS) group.
Coulibaly, 32 — who met Kouachi in prison — was sentenced to five years in prison in 2013 for his role in a failed bid to break an Algerian Islamist, Smain Ait Ali Belkacem, out of jail.
French Prime Minister Manuel Valls said the carnage they left in their wake showed there had been "clear failings" in intelligence.
The Islamic State group's radio praised them as "heroes" and Somalia's Shebab militants, al-Qaeda's main affiliate in Africa, hailed their "heroic" act.
While the immediate danger appeared to have cleared, a chilling new warning came from AQAP, whose top sharia official Harith al-Nadhari threatened France with fresh attacks, the SITE monitoring group said.
"It is better for you to stop your aggression against the Muslims, so perhaps you will live safely. If you refuse but to wage war, then wait for the glad tiding."
As the world rallied to France's side, US President Barack Obama vowed assistance.
"I want the people of France to know that the United States stands with you today, stands with you tomorrow," Obama said, describing France as America's "oldest ally."
The head of the country's Muslim community — the largest in Europe — urged imams to condemn terrorism at Friday prayers.
Also on Friday, the mourning capital shone the words "Paris Est Charlie" (Paris Is Charlie) on the Arc de Triomphe monument, playing on the phrase "I Am Charlie" (Je Suis Charlie) that has taken centerstage at rallies around the globe and featured heavily on social media.
Comments will be moderated. Keep comments relevant to the article. Remarks containing abusive and obscene language, personal attacks of any kind or promotion will be removed and the user banned. Final decision will be at the discretion of the Taipei Times.