COUNTERTERRORISM: Sydney police arrest two in long-term operations
'NO TERROR CHARGES': The lawyer for the two men told reporters that neither faces terrorism charges, and referred to their legal presumption of innocence
Two men have been arrested after counterterrorism raids in Sydney, Australian officials said yesterday, following long-running investigations into those suspected of backing fighters involved in conflicts such as those in Syria and Iraq.
Officers arrested one man on Friday last week following raids at four properties in Sydney's southwest that police officers said were "part of a long-running investigation and not as a result of any specific terrorism threat."
A 33-year-old was arrested and charged with acquiring and possessing ammunition illegally, police officials said.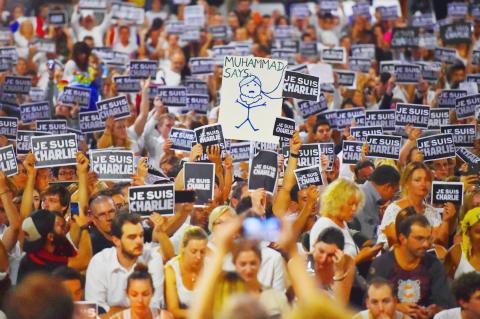 Members of Sydney's French community gather in the heart of the city to hold aloft banners reading "Je Suis Charlie" ("I am Charlie") on Thursday last week, in tribute to the victims killed after gunmen opened fire in the offices of French satirical weekly Charlie Hebdo in Paris the day before.
Photo: AFP
The investigation, which has been running for more than a year, is looking into alleged financial and other support for foreign fighters in conflicts abroad, officials said.
Officials said the raids were not connected to the 16-hour standoff at a Sydney cafe last month that left the lone gunman — self-styled Muslim cleric Man Haron Monis — and two hostages dead.
However, they follow large-scale counterterrorism raids across the nation in September last year that came as Australia upgraded its terror threat to "high" on growing concern about militants returning from conflicts in the Middle East.
Separately, a 21-year-old man was arrested on Friday on warrants related to the possession of unauthorized and unregistered firearms and ammunition found in a separate raid last month.
His arrest came as part of a counterterrorism operation targeting people suspected of involvement in domestic terrorist acts and the funding of terror groups, police said.
Both men's cases were adjourned yesterday until next week; lawyer Adam Houda, who is representing both, said that his clients were not facing terror charges.
"There is no suggestion at all there are any links with any terrorism," he said outside the court.
"One of the hallmarks of our justice system is the presumption of innocence. So presume them innocent," he said.
The Australian government has said that more than 70 Australians are currently fighting for Muslim militants in Iraq and Syria, with at least 20 believed to have died.
Last year, Canberra passed a law criminalizing travel to terror hotspots without good reason. Those charged could face up to 10 years in jail.
Comments will be moderated. Keep comments relevant to the article. Remarks containing abusive and obscene language, personal attacks of any kind or promotion will be removed and the user banned. Final decision will be at the discretion of the Taipei Times.