Malaysia pledges more funds for flood aid
Malaysia yesterday pledged more funds to help more than 160,000 people hit by the nation's worst flooding in decades, as forecasters said fresh rain could hamper efforts to relieve thousands left stranded by the waters.
Malaysian Prime Minister Najib Razak promised an additional 500 million ringgit (US$143 million) in aid after touring parts of Kelantan State on Saturday, which along with northeastern Terengganu and Pahang regions has been worst hit by the deluge.
Eight people have reportedly been killed so far by the torrential monsoon rains, and fears are mounting that the toll could rise as communities have been left stranded without food or medicine.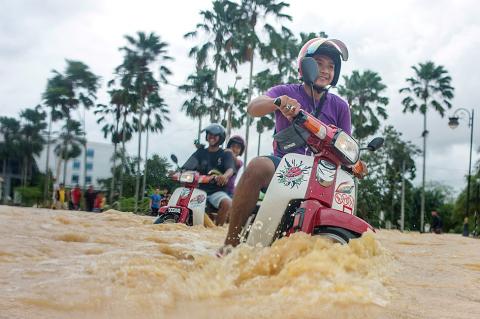 Residents use motorbikes to maneuver through floodwater in Kota Bahru, Malaysia, yesterday.
Photo: AFP
"The country is in desperate need of more helicopters," Deputy Minister of Transport Aziz Kaprawi said, as rescue agencies warned that shortages of fuel and clean water were hampering search efforts.
The worst flooding in 30 years has devastated much of northern Malaysia, with about 8,000 people thought to have been left stranded across the impoverished Kelantan State, where 17 areas have been cut off by the rising waters.
From the air, state capital Kota Bharu appeared to be a vast muddy lake left largely without power. Locals said many people had turned to looting because of a lack of fresh food and water supplies.
Weather forecasters yesterday warned that much of Malaysia would see more storms over the next three days.
"We expect another surge in heavy rain followed by strong winds brought by the seasonal northeast monsoon, which usually continues until March," a meteorological department official said. "It is going to take time for the flood waters to subside."
Anger has been mounting across Malaysia at what is seen as the government's slow response to the crisis. Truck drivers are complaining of diesel shortages as many gas stations have been submerged, while at relief centers workers are struggling to cope without enough clean water in the face of unsanitary conditions.
Najib has faced a storm of criticism after being pictured playing golf with US President Barack Obama during the storms. The prime minister yesterday defended his "golf diplomacy," with the Sunday Star newspaper quoting him as saying "it is hard for me to turn ... down" a personal invitation by the US head of state.
The government has since stepped up its response to the crisis, pledging the extra 500 million ringgit to help cope with the crisis on top of the 50 million ringgit already allocated. However, victims of the flooding said that still would not be enough.
"I don't think Najib's 500 million ringgit is enough. There are just too many victims," Tuan Sri Kuning, 58, said. "The conditions in the relief center are very dirty with rubbish not collected, and it is infested with mosquitoes. We have limited drinking water," he said.
Some people have started flying their sick parents out of the state themselves.
"Our home is totally submerged," said Ahmad Wajih Saifullah, a 25-year-old engineer who returned to Kelantan to evacuate his elderly and sick parents back to the Malaysian capital Kuala Lumpur.
"My mother has high blood pressure and diabetes. She lost all her medicine when they had to abandon their homes quickly due to fast rising waters," he said. "I went to pharmacy shops and hospitals, but was told that there was no one to disburse the medicine."
Comments will be moderated. Keep comments relevant to the article. Remarks containing abusive and obscene language, personal attacks of any kind or promotion will be removed and the user banned. Final decision will be at the discretion of the Taipei Times.