North Korea marks end of Kim Jong-il mourning
North Korea yesterday marked the end of a three-year mourning period for former North Korean leader Kim Jong-il, opening the way for his son, Kim Jong-un, to put a more personal stamp on the way the nation is run.
The anniversary of Kim Jong-il's death three years ago was observed by sirens ringing out across the nation at noon.
Trains, ships and cars sounded their horns and masses of North Koreans reportedly fell silent for three minutes as they bowed toward the mausoleum in Pyongyang where Kim Jong-il and his father, "eternal president" Kim Il-sung, lie in state.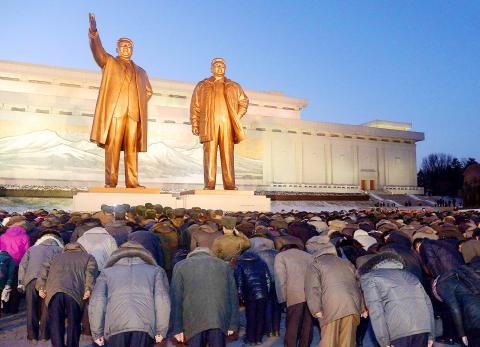 North Koreans on Tuesday bow to bronze statues of the nation's late founder, Kim Il-sung, left, and former leader Kim Jong-il at Mansudae in Pyongyang, in a picture provided yesterday by Kyodo, to mark the third death anniversary of Kim Jong-il.
Photo: Reuters
It is a North Korean custom to observe three years of mourning after the death of a parent. With that period now behind him, Kim Jong-un might be more likely to initiate new policies that underscore his own priorities and goals, though it is believed that major departures from his father's path are unlikely.
Since the death of his father, Kim Jong-un has indicated that he wants to build the economy and improve the nation's standard of living, but he has also held firm to the North's longstanding — and extremely costly — focus on strengthening its military and developing its nuclear weapons capabilities.
Comments will be moderated. Keep comments relevant to the article. Remarks containing abusive and obscene language, personal attacks of any kind or promotion will be removed and the user banned. Final decision will be at the discretion of the Taipei Times.