Palestinians push for bid on Israel exit
TENSION AGENDA: The US secretary of state and the Russian minister of foreign affairs said it is important that all sides take steps to reduce tensions in the region
US Secretary of State John Kerry was to meet the Israeli prime minister yesterday, two days before Palestinians push for a draft UN resolution to end the Israeli occupation.
Amid a high-stakes diplomatic drive by the top US diplomat, the Palestinians upped the ante late on Sunday by revealing in a surprise move they would put the draft text before the UN Security Council tomorrow.
It would set a two-year deadline for Israeli troops to withdraw from the West Bank — a timetable that the US has already opposed as complicating the stalled peace negotiations.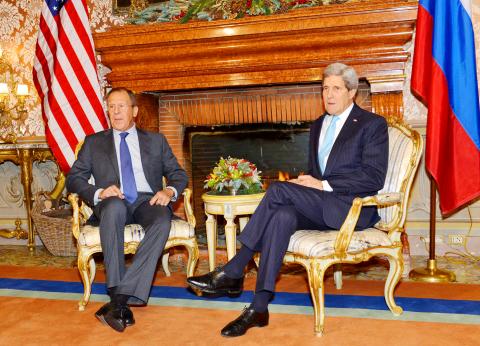 US Secretary of State John Kerry, right, and Russian Minister of Foreign Affairs Sergei Lavrov pose for photographers during their meeting at the US ambassador's residence in Rome, Italy, on Sunday.
Photo: EPA
"The Palestinian leadership took a decision to go to the Security Council next Wednesday [tomorrow] to vote on their project to end the occupation," senior Palestine Liberation Organization member Wassel Abu Yussef told reporters on Sunday after a meeting in Ramallah in the West Bank.
Kerry arrived in Rome on Sunday, where he met for more than three hours with Russian Minister of Foreign Affairs Sergei Lavrov, seeking to head off the looming UN showdown.
Jordan last month circulated a draft Palestinian text setting November 2016 as a deadline for the end of the Israeli occupation.
"That's not the way I think that we would look at handling a very complicated security negotiation by mandating a deadline of two years," a US Department of State official said, asking not to be identified.
France, Britain and Germany last month tried to put together a resolution that would win consensus at the 15-member council.
The new text would call for a return to talks aimed at achieving a two-state solution where Israel and a Palestinian state would coexist.
In the past, the US has consistently used its power of veto at the UN to block moves it sees as anti-Israel.
However, US officials said Kerry was seeking to learn more about the European position, adding there did not appear to be a European consensus on any resolution.
The Israeli Ministry of Foreign Affairs declined to comment ahead of yesterday's talks in Rome.
Kerry and Lavrov "agreed to continue working closely together on this issue and stressed the importance of all sides taking steps to reduce tensions," a State Department official said.
Since the collapse of Kerry's peace bid in April and the 50-day war in the Gaza Strip, there has been growing international concern about rising Israeli-Palestinian tensions.
"I believe the Middle East issue is crucial for making sure that we don't allow the situation to degrade further," Lavrov said.
After Israeli Prime Minister Benjamin Netanyahu called snap elections in March, some Europeans have pointed to a narrow window of opportunity to push a resolution at the Security Council.
Washington has long opposed unilateral Palestinian moves to win recognition for a state of Palestine at the UN.
However, US officials said they drew a distinction between a unilateral step, and an effort to draw up a multilateral resolution at the Security Council and have not decided yet whether to back or veto any such resolution.
There is a growing US recognition too of European impatience with the "status quo," as several European parliaments in recent weeks have called on their governments to recognize a state of Palestine.
"Our overall goal here is to hear from and engage with other stakeholders ... to hear their views and to the best of our ability work towards a common path forward," a State Department official said.
Netanyahu yesterday rejected any Palestinian attempt to set an ultimatum the Security Council for Israel to end its occupation.
"We will not accept attempts to dictate to us unilateral moves on a limited timetable," Netanyahu said in a statement before heading to Rome to meet Kerry.
"In the reality in which Islamic terrorism is reaching out to all corners of the globe, we will rebuff any attempt that would put this terrorism inside our home," the Israeli leader said.
"We will stand firm in the face of any diktat," he added.
Additional reporting by AFP
Comments will be moderated. Keep comments relevant to the article. Remarks containing abusive and obscene language, personal attacks of any kind or promotion will be removed and the user banned. Final decision will be at the discretion of the Taipei Times.