Kabul police chief quits amid violence
CHRISTIANS TARGETED: A Taliban spokesperson said on Twitter that a secret Christian missionary building and a meeting of foreign visitors had been targeted
Kabul's police chief, General Zahir Zahir, resigned yesterday, a spokesman said, after the Afghan capital was hit by at least nine militant attacks in the past two weeks with foreign compounds, embassy vehicles and US troops among those targeted.
Zahir resigned shortly after he confirmed that three South Africans and an Afghan citizen were killed in a Taliban attack on Saturday evening.
Zahir said the head of a foreign organization, his son and his daughter were killed.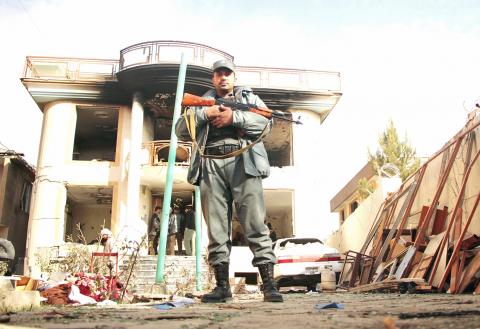 An Afghan security official yesterday stands guard at the office of a charity in Kabul following an attack by Taliban militants.
Photo: EPA
"The attackers first shot dead the director as they entered the building," Zahir said at a press conference, giving no further details.
"Three suicide bombers targeted this building," Kabul police spokesman Hashmat Stanakzai told reporters as elite commandos cleared the site in west Kabul after three hours of fighting.
"The Afghan security forces quickly reached the site of the attack and started operations against them. Fighting was over after three hours, with all three militants killed. Six people were rescued," Stanakzai said
An Afghan man yesterday looks through the broken window of a house located near a foreign compound that was attacked by Taliban militants in Kabul.
Photo: AFP
Stanakzai told reporters that Zahir had resigned.
"General Zahir Zahir told the interior ministry he no longer wanted to continue his job. The minister has accepted his resignation," Stanakzai said.
Government officials told reporters that the compound, near the Afghan parliament, was used by a small foreign relief organization.
Taliban spokesman Zabiullah Mujahid claimed on Twitter that it was a secret Christian missionary building and that a meeting of Australian visitors had been hit.
"A spate of deadly martyrdom attacks have rocked important enemy targets in recent days," he said.
Partnership in Academics and Development, a small California-based education group, yesterday posted a message on its Web site saying three people had been killed.
"The attack ... by multiple gunmen included one who detonated a personal explosive device killing three and injuring other staff members," the Web site said.
"In the midst of this unprovoked attack, Partnership in Academics and Development remains committed to providing educational resources for Afghan citizens," it said.
Friends in Pretoria and Kabul said the family were deeply Christian, but were not missionaries, and that the children's mother was returning home from a clinic where she worked in the city when the attack happened.
Kabul has been hit by at least nine attacks in the past two weeks, with targets, including US military convoys, security contractor compounds and a female Afghan member of parliament.
Saturday's attack came two days after the Taliban struck at a foreign guesthouse, wounding a guard, and a suicide bomber targeted a British embassy vehicle in a blast that killed six people.
In the latest attack, gunmen wearing suicide vests stormed the building apparently looking for foreigners. A neighboring building was engulfed in flames as security forces hunted down the militants.
An attack against Camp Bastion in the southern province of Helmand started on Thursday evening and was finally repelled on Saturday, military officials said, adding that militants had got inside the base and holed up in barracks.
At least five Afghan soldiers died in the fighting, as well as 26 insurgents, Ghulam Farooq Parwani, a senior Afghan army commander at the camp, told reporters.
Camp Bastion was a key airfield for US-led NATO operations in the Taliban heartlands of the south.
Afghan soldiers and police have endured soaring casualties on the battlefield with more than 4,600 killed this year as they take on the Taliban with less assistance from the US military.
Afghan President Ashraf Ghani, who came to power in September, has vowed to bring peace to the nation after decades of conflict, saying he is open to talks with the Taliban, who ruled Kabul from 1996 to 2001.
The UK is to host a major donor conference on Afghanistan next week, which is designed to showcase Ghani's "national unity government" and demonstrate continuing international support for the country.
The US-led NATO combat mission in Afghanistan is set to end on Dec. 31 and be replaced by a follow-on mission supporting the Afghan army and police, who have taken over responsibility for thwarting the Taliban.
The recent rise in violence has undermined NATO claims that Afghanistan is a stable state as troops pull out.
Comments will be moderated. Keep comments relevant to the article. Remarks containing abusive and obscene language, personal attacks of any kind or promotion will be removed and the user banned. Final decision will be at the discretion of the Taipei Times.