Fears rise of resumed full-scale conflict in Ukraine
Armored convoys headed to bolster rebel positions in east Ukraine on Sunday as shelling rocked separatist stronghold Donetsk, prompting US-led concerns of a return to full-scale fighting.
The White House expressed grave concern at reports of Russian military reinforcements in eastern Ukraine, saying that any separatist efforts to seize more territory would be a "blatant violation" of a ceasefire agreement.
"We are very concerned by intensified fighting in eastern Ukraine, as well as numerous reports... that Russian backed and supplied separatists are moving large convoys of heavy weapons and tanks to the front lines of the conflict," US National Security Council spokeswoman Bernadette Meehan said in a statement.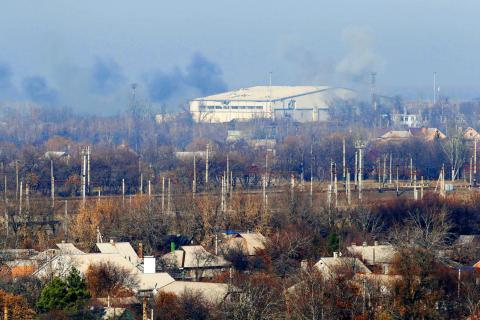 Smoke rises above a service hangar of the Sergey Prokofiev International Airport after the recent shelling during fighting between pro-Russia separatists and Ukrainian government forces in Donetsk, Ukraine, on Sunday.
Photo: Reuters
Reflecting the growing unease, EU Foreign Affairs and Security Policy Representative Federica Mogherini said reports of military reinforcements in Ukraine's separatist areas were a "very worrying development" and called on Russia to prevent further movement of "troops, weapons and equipment."
She also called on all sides to show "restraint" and said Russia should work to find a peaceful solution, while respecting Ukraine's sovereignty.
Yesterday, a special commemoration was to be held in the Netherlands for the victims of one of the worst tragedies of the conflict: The downing of a Malaysia Airlines Boeing 777 in July which killed all 298 people aboard, including 193 Dutch citizens.
The early hours of Sunday morning in Donetsk saw some of the fiercest combat since the Sept. 5 signing of a frequently violated ceasefire that halted all-out confrontations across most of the conflict zone, but failed to end constant bombardments at strategic hotspots.
An Agence France-Presse crew saw a convoy of 20 military vehicles and 14 howitzer cannons without number plates or markings driving through the rebel town of Makiivka on Sunday, in the direction of the nearby front line near Donetsk.
On Saturday, the Organisation for Security and Cooperation in Europe (OSCE) voiced concern after its monitors witnessed unmarked columns of tanks and troop carriers moving through east Ukraine in territory held by separatists.
The sightings came after Ukraine's military said on Friday that a large convoy of tanks and other heavy weapons entered the nation from Russia across a section of border that has fallen under the control of rebel fighters.
Russia denies being involved in the fighting in the east.
The OSCE reports from the east fueled the fears of a total breakdown in the truce, with the war having already killed about 4,000 people, according to UN figures.
Ukraine's military said on Sunday that three servicemen were killed and 13 injured, as shelling hit government positions in the region. Two Ukrainian policemen and one civilian were also killed in the fighting, the army said.
Rebel leader Alexander Zakharchenko risked heavy fire on Sunday morning as he toured the insurgents' forward positions around the ruins of the Donetsk airport, where Ukrainian troops are battling to maintain a toe-hold, Russian outlet LifeNews reported.
"They continue to bombard our airport, nothing is changing," Zakharchenko was filmed as saying.
Unidentified military columns have been seen increasingly by foreign journalists in the east in recent days, and Ukraine's military on Sunday repeated allegations that Russia is covertly deploying troops to bolster rebels ahead of a fresh offensive.
Comments will be moderated. Keep comments relevant to the article. Remarks containing abusive and obscene language, personal attacks of any kind or promotion will be removed and the user banned. Final decision will be at the discretion of the Taipei Times.