FEATURE: Typhoon Haiyan survivors adapt to rebuild their lives
Coconut farmer Pacalan Wenefredo has taken to growing rice.
Fisherman Napoleon Caramol is planning to raise pigs.
Housewife Felipa Balbuana, a mother of four, has signed up for her first job in years, sewing backpacks.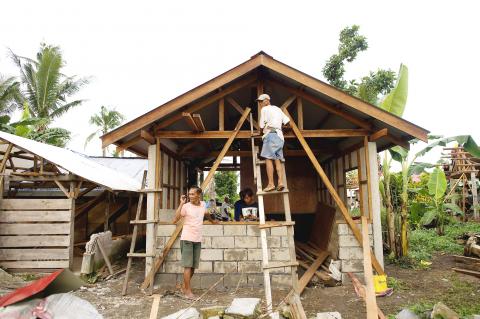 A photograph taken on Oct. 17 shows workiers building a house funded by the Red Cross in Dagami, 32kms from Tacloban, Philippines, following a deadly storm in November last year.
Photo: AFP
Survivors of Typhoon Haiyan, the strongest storm on record to hit land when it slammed the Philippines on Nov. 8 last year, have had to adapt in a bid to rebuild their lives in the wake of the storm that killed or left missing about 7,000 people.
The Asian Development Bank estimates that 5.6 million workers in a nation of about 100 million saw their means of earning a living ruined or seriously impaired by the disaster — and about a third of those affected were already poor.
Crops were destroyed, boats ripped apart and houses flattened as the typhoon powered across central Philippines, packing winds of up to 315kph and causing 7m storm surges.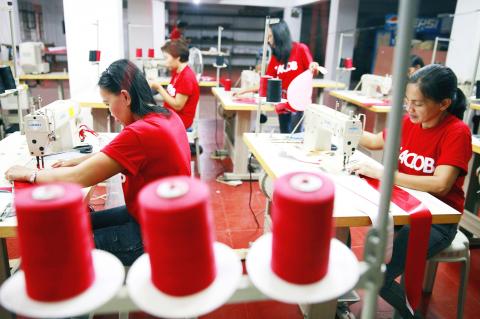 Survivors of Typhoon Haiyan learn how to sew eco-friendly waterproof backpacks at the factory set up by Taclob, a social enterprise in Tacloban, Philippines, on Oct. 17.
Photo: Reuters
Wenefredo, 59, had worked for 20 years on land held for generations in his family in the inland village of Cancaiyas in central Philippines to produce copra, the dried kernel used for making coconut oil, but Haiyan destroyed 80 percent of his trees.
The Philippines is one of the world's largest producers of coconuts, with exports averaging US$1.5 billion annually in recent years and the government estimates the damage cost US$38 million, which is a fortune for many small scale farmers.
Aware it could take six to eight years for newly replanted coconut trees to reach maturity and return to full production, Wenefredo turned to rice farming using cash assistance from the International Committee of the Red Cross (ICRC).
It is much less profitable, but Wenefredo said he had no choice. He has just sold his first harvest, halving his income, but he needs money to repay debts incurred before the storm.
"We will continue with the rice farming. It is our only source of living at the moment," he told the Thomson Reuters Foundation, sitting on a bench in the stiflingly hot living room of fellow coconut-farmer-turned-rice-farmer Gerry Baclayo, 44.
Baclayo nodded in agreement.
"Less than half of our needs are covered by the income... We do extra labor work," he said. "We borrow money, sometimes without interest, sometimes with 10 percent interest, so we can buy fish because it's hard to eat just rice."
In its path of destruction, Haiyan damaged about 33 million coconut trees from a national total of about 300 million and affected the livelihoods of more than a million farmers, the Philippine Coconut Authority (PCA) said.
The ADB estimates Haiyan drove an additional one million people below the poverty line, with more than 1.3 million people needing emergency relief in the aftermath of the disaster, according to the ICRC. The typhoon displaced up to 4 million.
A priority now is to clear fallen coconut trees covering swathes of land in areas hit by Haiyan to avoid the threat of pest infestation and clear the way to replant and rebuild homes.
"Our estimate is coconut rehabilitation will take about five to 10 years. We will need about 20 million coconut seedlings," said Edilberto Nieva, head of the PCA in eastern Visayas.
"We are telling the farmers to do intercropping so they can start making money immediately. This means planting things like young corn and vegetables that they can consume and sell," he said.
Initial data from the ICRC shows that farming, rearing livestock and setting up local convenience stores are the top three income generators for people given grants to restart.
Pigs, goats and chickens and produce for convenience stories are among the most popular items bought by survivors.
Fisherman Napoleon Caramol, 44, has planted root vegetables in his garden and is planning to rear pigs with his wife.
His wife, Elizabeth, was nine months pregnant with their ninth child when Haiyan swept away their rickety home on a coconut farm in Marabut municipality in central Philippines.
They took refuge with 60 other families in a hillside cave, one of many dotted along the beautiful, winding coastline in Samar province, during the storm. His wife feared for her life, but delivered a healthy boy, named Cavein Cuevas, five days later.
Emerging from the cave, they had to rebuild their home and lives, just relieved they had never taken on any debt.
"The typhoon left a big hole in our small paddle boat and destroyed parts of our fishing nets. They're beyond repair," 36-year-old Elizabeth Caramol said.
"Now if we do not get fish or cannot buy rice, we eat root vegetables... We are planning to raise pigs with the grant from [child healthcare charity] Terres des Hommes and maybe I'll set up a small grocery stall," she said.
The ICRC has offered vocational training in sustainable farming, hog rearing, bookkeeping and arithmetic, and advice on how to diversify and grow businesses to help survivors.
Work on rebuilding areas hit by Haiyan is continuing, with Philippine President Benigno Aquino III only approving a US$3.74 billion master plan to rebuild housing, social services and public infrastructure at the end last month.
Many families had to adjust to survive.
Felipa Balbuana had not worked for years and is now one of about 20 typhoon survivors working in a factory in Tacloban, the worst hit city, to produce backpacks and help supplement her husband's increasingly meager income as a fish vendor.
Members of the Leyte Union of Producers of Agricultural Products lost their livelihoods and are working with the International Organization for Migration (IOM) to use lumber from coconut trees to build temporary shelters.
The IOM estimates about 130,000 coconut trees will be salvaged to produce enough lumber to construct 5,800 shelters in three typhoon-
affected regions by February.
"The fallen and damaged coconut trees are our last resources. We have to use our meager resources instead of waiting for somebody to help," said Noel Inot, 39, a coconut farmer and member of the union.
While survivors of Haiyan work hard to rebuild their lives, the devastation and deaths caused by the typhoon has left them concerned about their security and that of their children.
"I do worry about our future. A storm like that could happen again and next time we may not survive," Elizabeth Caramol said.
Comments will be moderated. Keep comments relevant to the article. Remarks containing abusive and obscene language, personal attacks of any kind or promotion will be removed and the user banned. Final decision will be at the discretion of the Taipei Times.