EU leaders arrange climate deal
WATERED DOWN: Greenpeace said the EU put the brakes on clean energy generation, while the bloc hailed what it called the world's 'most ambitious ... climate energy policy'
EU leaders yesterday agreed on what they hailed as the world's most ambitious climate change targets for 2030, paving the way for a new UN-backed global treaty next year.
The 28 leaders overcame deep divisions at a summit in Brussels to reach a deal including a commitment to cut greenhouse gas emissions by at least 40 percent compared with 1990 levels. They also agreed on 27 percent targets for renewable energy supply and efficiency gains, in spite of reservations from some member states about the cost of the measures.
"Deal! At least 40 percent emissions cut by 2030. World's most ambitious, cost-effective, fair EU 2030 climate energy policy agreed," EU President Herman Van Rompuy tweeted.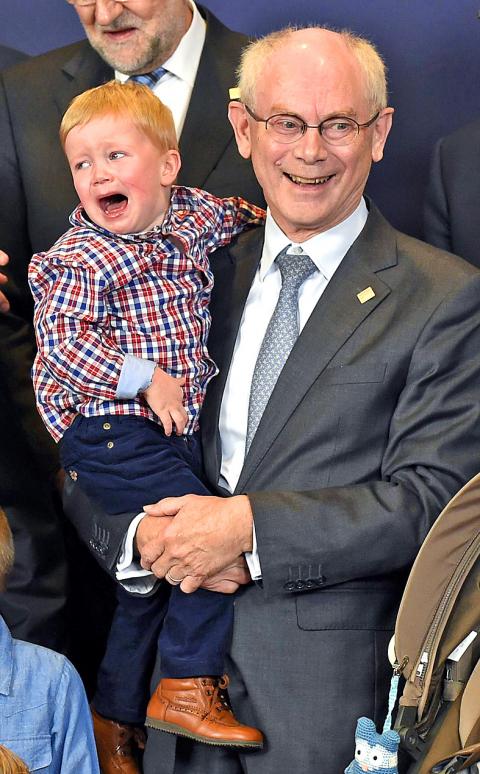 European Council President Herman Van Rompuy poses with one of his grandchildren during an EU summit in Brussels on Thursday.
Photo: AFP
The EU wanted to agree on the targets ahead of a summit in Paris in November and December next year, where it is hoped the world would agree to a new phase of the Kyoto climate accords which run until 2020.
The agreement puts the EU "in the driving seat" ahead of the Paris conference, European Commission President Jose Manuel Barroso said. Environmental groups said that the deal did not go far enough to cut global warming.
European leaders haggled late into the night amid a split between richer, greener nations and poorer countries that depend heavily on fossil fuels or on gas from Russia.
Poland had previously threatened to veto a deal, fearing that its heavy reliance on coal would have made it prohibitively expensive to meet the targets. German Chancellor Angela Merkel and French President Francois Hollande had talks with Polish Prime Minister Eva Kovacsz on the sidelines of the summit in a bid to gain her support.
Merkel said the deal would "give Europe a voice and a negotiation position in the international climate talks."
The accord also promotes new links among member states allowing them to export up to 15 percent of their power output when they are in surplus and import up to 15 percent when they are in deficit.
Van Rompuy said these power transmission interconnection links were a key part of developing the EU's energy market and would provide insurance against supply disruption. He referenced both the Ukraine crisis and turmoil in the Middle East as good reasons for the EU to act now to bolster its energy security.
The climate deal builds on the EU's targets for 2020 of a 20 percent cut in greenhouse gases blamed for global warming, a 20 percent boost in the use of renewable sources of energy such as solar and wind power and a 20 increase in energy efficiency.
While the new 40 percent target for greenhouse gases and 27 percent for the use of renewable energy sources agreed upon yesterday were as expected, a 30 percent goal for an increase in energy efficiency set in July by the commission was watered down to 27 percent.
Greenpeace said the EU had "pulled the handbrake on clean energy [generation]."
"These targets are too low, slowing down efforts to boost renewable energy [production] and keeping Europe hooked on polluting and expensive fuel," it said.
British-based humanitarian group Oxfam called for targets of 55 percent in emissions cuts, 40 percent for energy savings and 45 percent for use of renewable energy.
Comments will be moderated. Keep comments relevant to the article. Remarks containing abusive and obscene language, personal attacks of any kind or promotion will be removed and the user banned. Final decision will be at the discretion of the Taipei Times.