Floods move into Kashmir's Srinagar
DEATH TOLLS: Officials said 116 people had been killed in northern India and 128 in Pakistan, as military aircraft worked in the region to help with the relief operations
Deadly floods hit Indian Kashmir's main city of Srinagar yesterday, forcing scores of residents to flee as Indian Prime Minister Narendra Modi arrived in the region to see the devastation first hand.
Almost 250 people have been killed in the northern Himalayan region and in neighboring Pakistan since torrential monsoon rains triggered flooding, landslides and house collapses in recent days. Troops and other emergency personnel have been deployed in both countries to help with relief operations, with boats and helicopters used to reach those stranded.
The Jhelum River, swollen by days of heavy rain, flooded parts of Srinagar and forced frantic residents to move to rooftops, with reports the first floors of several hospitals were under water and mobile phone networks disrupted.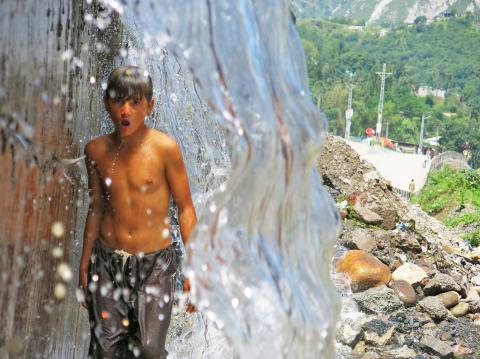 A Kashmiri boy crosses under a waterfall after the pavement was hit by a landslide in the Jhelum Valley in Pakistani-administered Kashmir on Saturday.
Photo: EPA
"I want to appeal to people not to panic," Kashmir & Jammu State Minister Omar Abdullah told reporters. "I know the situation is bad, but they should stay above the water level ... it may take up to an hour, but we will reach them and take them out."
"We are taking all the measures to ensure that we can reach the maximum number of people," Abdullah said.
Modi arrived to meet Abdullah and emergency response officials and take stock of the situation, described as the worst floods in the region for half a century.
Indian Home Minister Rajnath Singh, right, walks with Jammu & Kashmir State Minister Omar Abdullah at an airport in Srinagar, India, yesterday.
Photo: AFP
Several thousand villages across the Jammu & Kashmir region have been hit and 350 of them are submerged, the state ministry said in a statement on Saturday.
The Indian military, backed by 22 helicopters and four aircraft, has fanned out across the region to help with relief operations, with 11,000 people rescued so far, it said.
The death toll has reached 116 in northern India, the ministry said, with another 128 killed in Pakistan.
Sixty-nine people have died in Pakistan's worst-hit province, Punjab, another 48 in Pakistan-administered Kashmir, and 11 in the northernmost territory of Gilgit-
Baltistan, said Ahmed Kamal, spokesperson for the Pakistani National Disaster Management Authority.
Heavy rains were easing and have stopped altogether in parts of Pakistan following the floods that have hit 108 villages and damaged farmland in that country.
In Srinagar, an army building was under water along with some government buildings, while main roads, including the one connecting the city to the airport, were submerged. A reporter in Srinagar was forced to the third floor of his house after water flooded the second, with no sign of emergency officials to evacuate him.
"We will have to move to the roof, but we are also worried about the building collapsing," he said.
A police official said continuing bad weather and the floods have knocked out telephone services in parts of the region.
"We are not able to get information from areas which have been cut off by floodwater," an official in Srinagar's police control room told the Press Trust of India news agency. "[The] exact extent of deaths and destruction over the past 24 hours is not known."
Comments will be moderated. Keep comments relevant to the article. Remarks containing abusive and obscene language, personal attacks of any kind or promotion will be removed and the user banned. Final decision will be at the discretion of the Taipei Times.