Australia distances itself from Rolf Harris
Rolf Harris' hometown moved to purge all memory of the former cultural icon yesterday as Australia distanced itself from the disgraced entertainer after he was convicted of indecently assaulting girls.
Australian-born Harris, 84, was found guilty of all 12 charges against him after a six-week trial in London and now faces jail, capping a spectacular fall from grace.
The TV presenter, artist and musician assaulted four girls and young women aged from seven to 19 between 1968 and 1986, including his daughter Bindi's childhood best friend, a court found.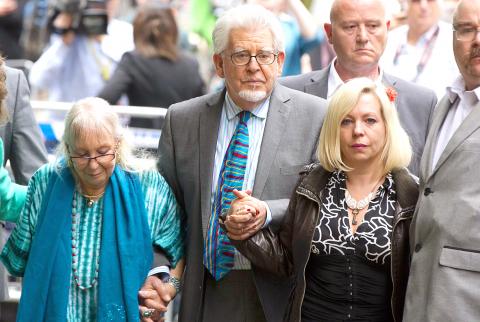 Entertainer Rolf Harris, center, his wife, Alwen, left, and daughter, Bindi, leave Southwark Crown Court in London on Monday. Harris was found guilty on Monday of 12 charges of indecently assaulting young girls over a period of nearly 20 years.
Photo: Reuters
Harris was one of Australia's best-loved personalities, who headed to London when he was 22 and made his name in Britain.
He shot to fame with his signature instrument, a wobble board, and songs about kangaroos and a man called Jake who had an extra leg, ultimately painting Queen Elizabeth II's portrait on her 80th birthday.
In his hometown he was a hero, who was known as "The Boy from Bassendean," after the Perth suburb where he grew up, but now Bassendean Mayor John Gangell wants nothing more to do with Harris, whose life and legacy are in ruin.
"These are heinous crimes. All privileges should be stripped from Mr Harris," Gangell told ABC radio, adding that a meeting tomorrow would consider whether to remove his status as a freeman.
"It is a shock, but it's something we must do now to distance ourselves from the crimes in which he's been convicted. Unfortunately that world stage that he's put Bassendean on has now come crashing down," he said.
The town has already removed a framed portrait of him from the council chambers and was also considering whether to take down a plaque outside the family home.
A West Australian Education Department spokeswoman told reporters that several Harris artworks would also be removed from Perth Modern School, where he studied from 1943 to 1947.
Perth Mayor Lisa Scaffidi told Fairfax radio that the council would likely tear up a footpath plaque in his honor.
"It's a very sad issue and something we need to deal with," Scaffidi said.
Australian Prime Minister Tony Abbott, who grew up during Harris' heyday, said he was "gutted and dismayed" at the verdict.
"But it's very important that we do everything we humanly can to protect vulnerable young people," Abbott said of a man once adored by children and adults alike. "Sexual abuse is an utterly abhorrent crime... and it's just sad and tragic that this person, who was widely admired, seems to have been a perpetrator."
The Australian media said it was clear Harris had a dark side.
"Guilty: Harris abused teens for years," the Sydney Daily Telegraph said, while Fairfax Media dredged up a 20-minute anti-child abuse video Harris shot in the 1980s.
"In the period when the video began to be widely shown in schools, youth clubs and health institutes in the United Kingdom, the court found he was also having sexual encounters with his daughter's best friend," Fairfax said.
The Australian broadsheet said his fall from grace "will be complete when authorities move to strip him of all his royal and Australian honors."
Harris was made a CBE in 2006 — one of the highest honors the queen can bestow — and appointed to the Order of Australia in 2012.
Labeled a "sinister pervert" by the prosecution, he is the second person convicted under Operation Yewtree.
The high-profile investigation was set up in 2012 after allegations that the late BBC presenter Jimmy Savile was a prolific sex offender.
Comments will be moderated. Keep comments relevant to the article. Remarks containing abusive and obscene language, personal attacks of any kind or promotion will be removed and the user banned. Final decision will be at the discretion of the Taipei Times.