Thai junta to form interim government by early September
Thailand's junta will form an interim government by September to oversee political reforms that will be followed by elections in about one year, the head of the army said on Friday.
General Prayut Chan-ocha, who led a coup on May 22 that deposed an elected government, did not say whether the Cabinet would be made up of civilians or military personnel.
"A new government will be set up in August or the beginning of September," he told officials at a briefing on the next budget. "Don't ask me who they are and where they come from."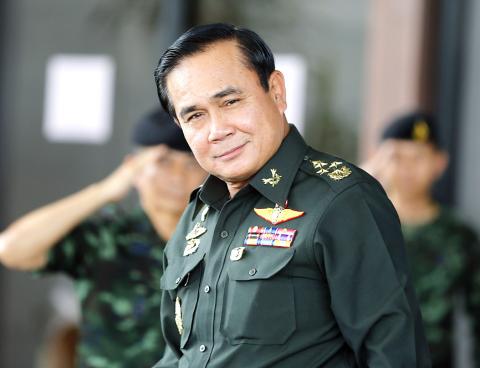 Thai army chief and junta leader General Prayuth Chan-ocha smiles as he leaves after a national budget meeting yesterday at the Army Club in Bangkok.
Photo: EPA
The junta leader has not ruled out becoming prime minister himself.
The ruling generals have curtailed civil liberties by banning public protests, arresting demonstrators, censoring media and temporarily detaining hundreds of critics for questioning.
Prayut has ruled out elections for at least a year to allow time for political reforms — including the drafting of a new constitution — which he says are necessary to end almost a decade of political turmoil and street violence.
He urged Thais to "please be patient with me. I know it's a honeymoon period now, but I hope it lasts a bit longer."
The commander-in-chief said it was important for Thailand to have a strong military.
"If we don't have a military we cannot bargain with anyone. If our military is not strong, no one listens to us," he said.
Critics accuse the junta of using political unrest as an excuse for a power grab by a military-backed royalist establishment, seeking to curb the political dominance of fugitive former Thai prime minister Thaksin Shinawatra.
The billionaire tycoon-turned-populist politician was ousted in a 2006 coup and lives in Dubai to avoid jail for a corruption conviction.
Comments will be moderated. Keep comments relevant to the article. Remarks containing abusive and obscene language, personal attacks of any kind or promotion will be removed and the user banned. Final decision will be at the discretion of the Taipei Times.